Alto-Shaam
Top 5 Design Features of Labor-Saving Equipment
Navigating the current foodservice labor shortage is certainly a challenge for the foodservice industry. Here are the top 5 equipment features to look for when designing a kitchen that serves more customers with fewer employees.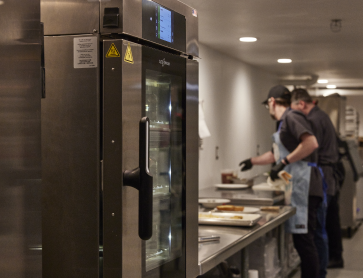 The foodservice industry is undergoing tremendous changes, with a labor shortage that is putting more pressure on employers.
Foodservice operators are rethinking their kitchen design and choosing equipment that can streamline workflow and take pressure off the limited staff they have.
Here are the top 5 equipment features to look for when designing a kitchen that can serve more customers with fewer employees.
1. Multi-Cook Capability
Multi-cook ovens are one of the newest categories of ovens to be introduced to the foodservice industry. Not to be confused with any "multi-functional" oven, a multi-cook oven features unique independent chamber design that enables a greater volume and variety of food.
The two different multi-cook ovens by Alto-Shaam are Converge® and Vector® ovens. Both utilize exclusive Structured Air Technology®, which features patented vertical air flow that is designed to reduce cooking times and eliminates the need for staff to babysit the oven.
Vertical airflow means that air comes from the top and bottom rather than from the back of the oven, resulting in more even, consistent cooking quality. Staff no longer need to rotate pans due to hot and cold spots created in the oven.
Oven chambers are independently controlled, allowing up to three or four different menu items to be cooked at their ideal temperature, fan speed and cook time controls simultaneously with zero flavor transfer.
2. Programmability
Further eliminating the need for oven babysitting, programmable recipes built into an oven are a safeguard for quality. With simple recipe programming, staff of all ability levels can cook at the touch of a button. Operators can create menu presets, and then anyone on the line can reproduce it with the right ingredients. Alto-Shaam ovens all come with deluxe model options that feature programmable recipes.
3. Connectivity
Even if an oven has programmable recipes, one of the biggest labor-intensive headaches can be programming recipes on several ovens in different locations.
Traditionally, recipe management for multi-unit operators has involved traveling from store-to-store with USBs or talking store-level managers through recipe settings on the phone.
To combat this challenge, Alto-Shaam introduced ChefLinc™, a cloud-based, remote oven management system, available to use with their latest oven innovations. ChefLinc provides foodservice operators complete control of their equipment, menus, and business from wherever they are—increasing efficiency and consistency across multiple locations.
Its intuitive dashboard allows operators to seamlessly create, manage and distribute recipes to ovens through the cloud, as well as execute limited time offers, regional menu variations and daypart menu variety.
4. Compact, Ventless Design
Ventless oven models can help further save labor. Operators can place this equipment anywhere outside of a traditional kitchen hood—maximizing floor space and improving efficiency and workflow for their staff.
Buckshot's Saloon & Eatery in Eagle River, Wis., for example, was faced with a crippling labor shortage and needed a ventless oven that boosted productivity in the kitchen while preserving the restaurant's reputation for providing the highest quality food and service.
Alto-Shaam's Vector® H Series Wide multi-cook oven allowed for a designated area where one employee, at the touch of a button, could simultaneously cook a variety of menu items with no flavor transfer, including pizzas, seared ahi tuna steaks, bacon, grilled chicken, and more.
5. Stackability
In a cramped kitchen, vertical space is just as important as floor space. When investing in new kitchen equipment, seek out models with stacking options. These allow two ovens or holding equipment to be stacked on top of each other using special hardware or stands.
Stacked equipment optimizes the kitchen layout, which reduces the number of staff needed to manage the cook line. Not only does it save labor, but operators can also save up to $8,000 in hood space.
Alto-Shaam provides a full line of labor-saving equipment to help combat the labor shortage. Learn more by exploring the Alto-Shaam product page.
Learn More