Alto-Shaam
Which Ventless Oven is Right for You?
Every operation has individual requirements and restrictions. The addition of ventless equipment can ease pain points to streamline processes and execute entire menus -- anywhere it's needed.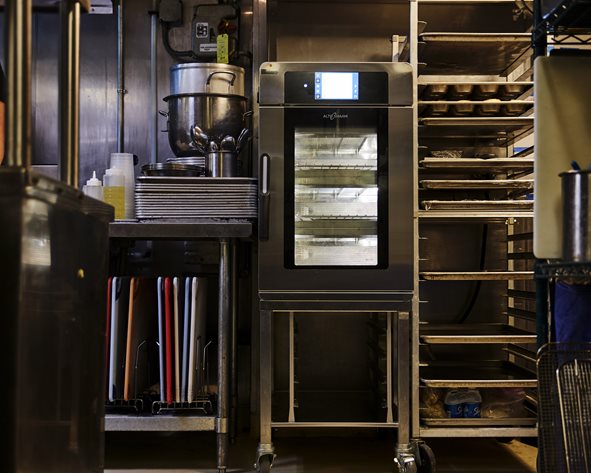 Electrification is becoming more important in foodservice operations as businesses look to becoming more sustainable with their energy usage. Whether just starting up your business or revamping your kitchen, finding the right piece of equipment to manage all your needs can be a challenge.

For some operations, ovens need to fit underneath a traditional kitchen hood, which can take up valuable space on the line and limit what can be accomplished in the kitchen. Alto-Shaam's ventless equipment systems not only save on electricity costs, but they can be placed anywhere, without the requirement of being underneath a ventilation hood.

With several pieces of ventless equipment on the market and different application needs, which one is right for you?
Tavern-Style Foodservice
Cost is a major barrier to entry for opening a bar or tavern-style concept, or for implementing a food program to an already-existing location. The cost of a traditional hood can cost up to $2,500, and venting alone can cost around $50,000—just for a 12- to 16-ft hood. With a ventless oven, the only cost you have to worry about is the initial purchase of the unit.
If you're running a bar that doesn't have a food program right now or just opening a tavern-style concept, ventless equipment is a great consideration to help attract more customers. Here are a few options to get started:
Vector® Multi-Cook Ovens
Present upscale meals to customers with a Vector® multi-cook oven. Great for high volumes, this oven can create consistent, quality food with minimal labor. Applicable for tavern-style applications, the Vector is rated for full raw, fatty proteins, and high volumes of it. It makes it a great choice for adding new menu items such as chicken, burgers, flatbreads, brownies, and more, great for limited time offers or for sporting events.
The secret to this lies in Structured Air Technology®, which allows the oven to act as four ovens in one. Each individual cooking chamber offers independent temperature, fan speed and cook time controls, so you can simultaneously cook the same or different items with no flavor transfer. A catalyst in the rear of each chamber removes grease laden air, which makes cooking large loads of proteins possible and safe.
Cook & Hold Oven
Alto-Shaam's Cook & Hold oven is another great option for tavern-style applications, such as sports bars. This ventless and waterless oven costs only a few dollars per day to operate, making it easier to incorporate into an already established location looking to free up space.
Made with Halo Heat® technology, Cook & Hold ovens deliver higher yields while opening up room in the kitchen and relieving stress from staff. If you anticipate a crowd of people coming for a Sunday football game, you could throw in a pork butt the night before, smoke and hold it at the proper temperature overnight, and have it be complete by the time you come in the next morning for pulled pork sandwiches. Since there are no harsh heating elements, forced air, or added humidity, less product is wasted, and moisture is better retained, helping to preserve and maximize food quality.
Non-Commercial Foodservice
For existing institutional facilities with limited kitchen space or cooking areas, such as hospitals, schools, or senior living facilities, it can be difficult to add a larger cooking capacity without changing the hood or layout of the kitchen. Doing so could be a costly and time-consuming process.
With the latest Prodigi™ combination oven, operators are not stuck keeping this unit underneath a traditional vent hood. Instead, with the optional Ventech™ condensation hood, Prodigi can be fully functioning in a location closer to the point of service, saving valuable hood costs.
For healthcare and K-12 applications, having this ventless combi oven option allows operators to produce large quantities of healthy, nutrient-dense food at a consistent quality. Combining convection and steam, combi mode allows for quicker energy transfer, adding moisture to maintain the quality and nutrition of the product. The higher the humidity level, the higher the energy transfer rate.
Fine Dining
Finding skilled labor remains a challenge in the industry. For fine dining, reliable ventless equipment that can perform multiple tasks is a good way to ease employee stress. Now executive chefs can design their kitchen workflows intuitively to ease stress and bottlenecks in the kitchen.
Converge® multi-cook ovens are highly universal. With up to three independent cooking chambers, Converge combines the power of Structured Air Technology with the versatility of combi cooking. The incorporation of water provides combi cooking capability in each independent cooking environment. This allows cooks to bake pastries at the same time as steaming vegetables and cooking higher temperature foods – with each chamber set to the proper humidity, temperature, fan speed and cook time control. As an added bonus, there is no flavor transfer between the oven chambers.
This added flexibility allows staff to let the oven do the work, so they can start running prep for other items or tend to other duties.
To learn more about Alto-Shaam ventless ovens and full line of kitchen equipment solutions, check out our on-demand webinars.
Watch Now