Alto-Shaam
Q&A: Wi-Fi Oven Management Made Easy and Efficient
Kevin Bernier, Director of Product Management at Alto-Shaam, answers questions about ChefLinc™ and how this remote oven management system makes connected cooking easier than ever.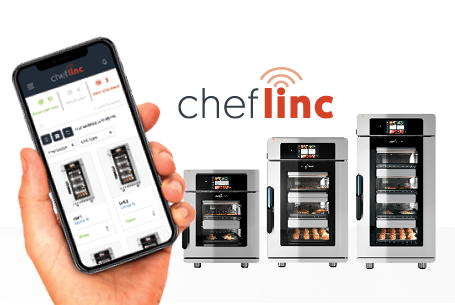 For those who are not familiar with it, what is remote oven management?
Kevin Bernier: I would define it as connecting your equipment, either over wi-fi, ethernet, cellular or some other medium to give someone in a remote location visibility and input into what you're cooking and how you're cooking.
What are the customer benefits in remote oven management?
KB: Consistency, control and visibility. You can do a lot of different things, from just looking at the product to pushing recipes and settings to it. You can push those out through the cloud connection, so you ensure the recipes on all your ovens are correct, no matter which location.
What is the Alto-Shaam ChefLinc system and what pieces of equipment have it?
KB: ChefLinc is Alto-Shaam's cloud-based remote oven management system. It has an easy-to-use dashboard for operators to seamlessly push and pull recipes, view oven status, collect and store data, receive detailed service diagnostics and do much, much more. We have ChefLinc on each of the product offerings we have today: our Cook & Holds; our Smokers; our Vector and Converge multi-cook ovens; and our latest Prodigi combi ovens all have cloud-based ChefLinc available for them.
How are some of the ways customers are using it?
KB: The most obvious thing is recipe management and the ability to take recipes on and off an oven, and to make them available for a location. For limited time offers or seasonal menus, it gives operators a great opportunity to capture a different revenue source. Alto-Shaam has a global recipe library on ChefLinc, so you can easily access the most common recipes and modify the cook settings to personalize it to your menu.
Think about how you'd manage those without a wi-fi-enabled oven. You'd create the recipe in your kitchen and then drive it around with a USB to all your locations. We've got customers with hundreds of locations—think about the expense of that. With ChefLinc, we can do it with a couple of clicks of a mouse.
We have customers who are also using it to verify and set up their standard operating procedures. For example, you can verify that your team is performing the heavy self-cleaning cycle at the end of every night through ChefLinc reporting.
How is it helping them save time, money and labor?
KB: There's a lot of different ways. Think about supply chain interruptions. Say your supplier's eight-ounce chicken breast is no longer available but they can give you a discount on the nine-ounce. You've got to adjust your recipe cook settings to ensure it cooks properly. Now, because you can adjust recipes quickly, you can react to that supply chain interruption and save the money and avoid the outage to your customers.
Overnight cooking is another big benefit. If you have our Cook & Holds or smokers, we like to encourage lights out cooking to reduce labor costs. You can monitor those overnight cooks remotely and see exactly where it is in the cooking process, and ensure that everything is progressing the way you want it to.
To learn more about how ChefLinc can save operators on money, time, and labor, visit our ChefLinc page.
Learn More