Bavette La Boucherie
Bavette La Boucherie Achieves More in a Compact Kitchen with Cook & Hold Ovens
Discover how cooking in an Alto-Shaam Cook & Hold oven overnight allowed Bavette La Boucherie to reduce labor and food waste, while maximizing food quality and consistency.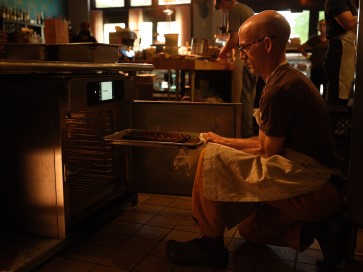 In 2013, Bavette La Boucherie restaurant began as a neighborhood butcher shop, inspired to preserve an otherwise dying craft by carrying on its traditions of quality and excellence.
Over the years, Bavette's Owner and Executive Chef Karen Bell has transformed her business, maintaining her passion for responsible, sustainable food sourcing and the transparency of food moving from farm to plate.
Today, the local restaurant in Milwaukee's Third Ward upholds its roots by operating the restaurant and butcher shop in conjunction—serving fresh meats on a daily changing menu consisting of salads, sandwiches, small plates, pâtès, cheese and charcuterie boards.
Bavette utilizes Alto-Shaam's new Cook & Hold ovens. The new ovens provide the same high-quality results with Alto-Shaam's most advanced control yet and are very simple to use, requiring little or no operator training.
With time-tested Halo Heat® technology, the Cook & Hold oven allows Bavette to honor each cut of meat through another time-honored technique—overnight cooking. With just two cooks and one chef, overnight cooking has provided the restaurant the ability to achieve high-quality results and consistency with less labor and food waste. Exclusive Halo Heat technology provides gentle, radiant heat that delivers the greatest moisture retention and most even cooking.
"Prior, we would cook things in the regular oven at a low temperature overnight, but we did not have as much control over the process or the temperature, and product did not turn out as well or consistent," Bell said. "We would hold food in a warmer or soup warmer or heat to order, which was difficult because we have a very small cooking space within our kitchen."
Cook & Hold ovens can be placed anywhere, which has helped Bavette achieve more with their compact kitchen. Bavette has seen higher product yields and less waste. Bell said the oven has paid for itself with its built-in savings.
Remote Oven Management
Labor savings, reduced waste and increased yields have never been more attractive. With ChefLinc™ cloud-based oven management system, Bavette is able to remotely push and pull recipes through an intuitive dashboard.
"I like the recipe programming function, and I am looking forward to taking advantage of the Wi-Fi functionality more, as well as exploring with other dishes and recipes in the oven. It's very easy to use with consistent results."
Evolving Needs
When faced with 40 percent less customers during the COVID-19 pandemic hit, Bavette quickly adapted their menu to meet changing needs.
"We shifted to more carry out and adjusted our menu accordingly, focusing more on the salads and sandwiches, and items that would travel well," Bell said. "We also incorporated family meals, fully prepared meals that people would take home to heat themselves."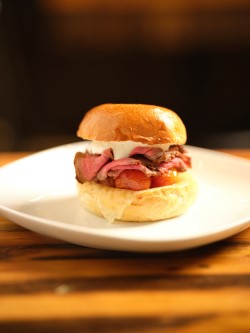 The restaurant utilized their Cook & Hold oven at regular capacity, to cook overnight and hold and the highest quality throughout the day. Now, Bavette has been able to gradually move back to their old menu to offer dine-in and patio dining service. They have also expanded revenue streams by offering grab and go items.
To learn more about the original Cook & Hold oven, visit our product page.
Learn More