Bell & Evans
Bell & Evans Brings Chicken on the Road with Ventless Ovens
Bell & Evans, a chicken producer based in Pennsylvania, needed multi-functional ovens that could showcase their quality food at small-to-large events and demonstrations.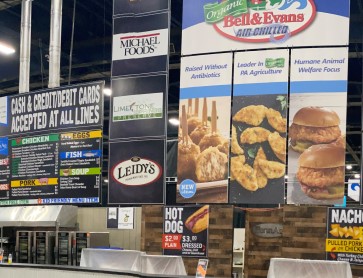 Bell & Evans was looking for multi-functional ovens that delivered quality results equally matched to their standards.
Based in Fredericksburg, Pennsylvania, the family-owned chicken company produces a range of chicken products at the highest standard of quality—humanely raised and organic. As the oldest chicken company in America dating back to 1894, Bell & Evans products can be found in grocery stores across the United States.
To showcase their superior chicken products, the company purchased four Vector® H Series Multi-Cook Ovens to cook at shows, special events and product testing demos. They also have used the ovens to support large-scale cooking events, like the Pennsylvania Farm Show, which is attended by more than a half of a million people in the course of a week.
"We experienced increased efficiency and overall product quality while using the ovens to prepare for medium-to-large events," Bell & Evans Owner Scott Sechler said. "We have found them to be useful for serving just a few people for product testing to supporting medium-sized groups and even mass producing product for tens of thousands of people at large-scale events like the Farm Show."
Vector ovens feature up to four ovens in one. Each oven chamber is independently controlled, enabling Bell & Evans to cook each chicken product at it's ideal temperature, fan speed and cook time.
"We enjoy the flexibility of being able to cook at different temperatures in each chamber while having full control over the entire cooking process, including temperature, fan speeds and multiple cooking stages," Sechler said.
Previously, Bell & Evans utilized conventional ovens, air fryers and deep fryers. They realized a need for a ventless oven that could still cook their chicken as intended and result in a high-quality, crispy product. They looked at high-speed ovens with impingement and microwave assist, but ultimately chose Vector because of its superior consistency and quality as a result of Structured Air Technology®.
"The Vector ovens have given us greater cooking consistency of our products by giving us ultimate control over our cooking processes," Sechler said. "We primarily use them in our conference room, and they do not require ventilation. We are happy we purchased the additional cart for each oven so we can easily move them and take them to events."
Additionally, Bell & Evans has valued the true partnership with Alto-Shaam, which is also a family company, dedicated to helping its customers succeed.
"We have been extremely happy with the customer service and support we have received both pre- and post-purchase," Sechler said. "The technical team is extremely knowledgeable and willing to help and teach at every step in the process. The product is great and the service is phenomenal."
To learn more about Vector ovens, visit our product page.
Learn More