Fairmont Peace Hotel
Fairmont Peace Hotel Streamlines Food Production
The Fairmont Peace Hotel in Shanghai, China utilizes a full system of Alto-Shaam commercial foodservice equipment to execute a five-star dining experience while reducing labor and food costs.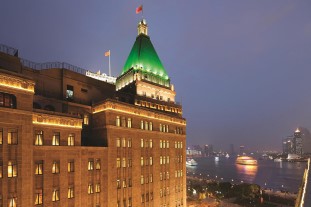 The Fairmont Peace Hotel, located in the Shanghai Bund Center since 1929, is a legendary landmark, offering a five-star luxury experience for guests from all over the world.
With seasonally inspired menus, the Fairmont Peace Hotel boasts a variety of upscale dining experiences that complement its high quality amenities.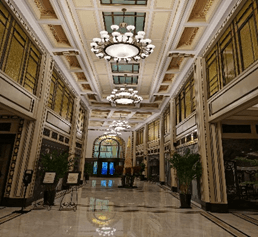 Contributing to this experience, the hotel utilizes a full system of flexible and efficient cooking equipment from Alto-Shaam that has increased their menu while reducing labor by 10 percent and food costs by 7 percent. Their equipment includes a Vector® Multi-Cook oven, two Combitherm® combi ovens, a Cook & Hold Smoker oven and a variety of hot and cold holding equipment.
"The system has totally changed the original way we serve our VIP lounge guests," Sous Chef Liang said. "By transferring foods with hot holding, we have seen an increase in VIP guests choosing to eat and rest here.
Their Vector oven has particularly allowed the Fairmont Peace Hotel to streamline their food production processes.
"Four cooking chambers in one oven, with independent fan speed, temperature and time control, has significantly increased our food production and menu flexibility," Liang said.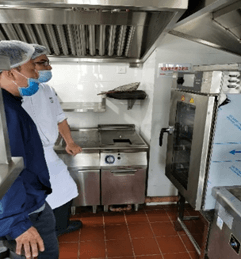 Executive Chef Wang said their Cook & Hold Smoker oven has also helped them introduce bold flavors into their menu more efficiently and seamlessly.
"We used traditional smoking equipment, which took more time and labor," Wang said. "The kitchen was also filled with heavy smoke that wasn't a healthy environment for our chefs. Now with Alto-Shaam's innovative commercial smoker oven, it not only solved the problems, but also allowed us to expand our menu with smoked salmon, smoked beef and smoked yoghurt."
The Fairmont Peace Hotel has also valued their CT Express™ combi oven, for its compact footprint and customizable branding to fit the aesthetic of their front-of-house cafeteria space.
"We purchased a colorful combi oven some years ago and put it in our cafeteria to make bakery items," Wang said, "It adds beauty to our food serving area. We are definitely considering a custom red Vector H Series oven, after realizing the unique advantages of our custom combi."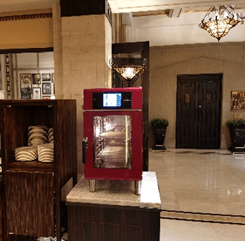 Learn more about Alto-Shaam's full system of foodservice equipment.
Discover Solutions