Nani's Chicken
Nani's Chicken Uses Rotisserie Oven as Front-of-House Appeal
Nani's Pri Pri Chicken, based in North Carolina, puts quality rotisserie chickens on display using an electric rotisserie oven with ventless hood.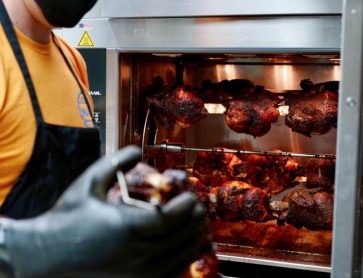 Nani's Piri Piri Chicken is not just any rotisserie chicken restaurant. The fast casual restaurant in North Carolina brings bold, savory flavors to its customers—with remarkable convenience and quality.
Opening their doors during one of the hardest years for the restaurant industry, Nani's was created by chef and co-founder Meherwan Irani, who saw the growing need for comforting, take-home friendly food like never before, as a result of the pandemic.
Inspired by the comfort of family, Irani named the restaurant after his daughter's maternal grandmother, referred to in Indian culture as "nani." Today, the restaurant specializes in all-natural rotisserie chickens rubbed with their house spice blend called Piri Piri.
The restaurant, which is part of the Chai Pani Restaurant Group, also serves an assortment of sides, including corn pudding, green bean salad and dirty rice.
Opening its first location in Asheville's historic Grove Arcade in November 2020, Nani's chose the Alto-Shaam electric rotisserie oven with a ventless hood for its reliability and front-of-the-house appeal.
"Ovens are a focal point of the restaurant experience," said Ellis Redmond, procurement manager for Chai Pani Restaurant Group. "The cooking process is part of the design."
Because of the rotisserie's ventless design, Nani's is able to put quality chicken on display behind their front counter.
"We strive to make familiar food both extraordinary and convenient," Redmond said. "Overall, we appreciate the consistency and reliability of the Alto-Shaam rotisserie oven the most.
Exactly one year after opening its first location, Nani's opened a second restaurant in Atlanta's Ponce City Market in November 2021. When developing the second concept, it was no question that the Alto-Shaam rotisserie oven would continue to be a centerpiece.
"We love the easy and straightforward operations," Redmond said. "The oven itself doesn't get in the way of executing operations at the restaurants. It just makes delicious chicken!"
To learn more about Alto-Shaam's rotisserie ovens, visit our product page.
Learn More