PPX Hospitality Brands
PPX Hospitality Brands Replaces Speed Cook Ovens to Maximize Quality
PPX Hospitality Brands needed a ventless, versatile oven that could keep up with the volume of their menu at new airport concepts for their iconic chains Legal Sea Foods and Smith & Wollensky. They chose Converge® Multi-Cook Ovens as a replacement for speed cook ovens to achieve the highest food quality with faster speed of service.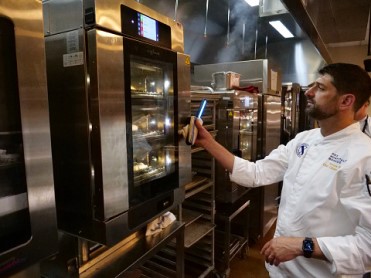 When PPX Hospitality Brands' Chief Culinary Officer Matt King began looking at airport locations for Legal Sea Foods and Smith & Wollensky, he realized small sites have unique challenges.
"With no traditional hood systems, we needed ventless cooking," he said. "We also required a short cook time, as there is a lot of seat turnover. Food needs to get out as quickly as possible."
PPX Hospitality Brands became an early adopter of Alto-Shaam's Converge® Multi-Cook Ovens as a beta test user.
"We brought Converge ovens in as a replacement for speed ovens, in which I wasn't a fan of the quality," King said.
With the Alto-Shaam Converge ovens, quality is not sacrificed for speed.
"With the air flow and injection of moisture, items are cooked 30 to 40 percent faster than traditional convection ovens without losing quality," King said.
Recipes can be pre-programmed and pushed to and from the ovens through Alto-Shaam's web-based oven management system called ChefLinc™.
To ensure the Converge oven was a good fit for its concepts, King and his team conducted a simulated restaurant test at Alto-Shaam's headquarters and manufacturing facility. Employees enjoyed lunch with items from both Legal Sea Foods and Smith & Wollensky.
"We wanted to prove the oven works and see what it is capable of," King says. "We discovered it could feed 500 people in an hour and a half, which was really remarkable; it performed above our expectations."
PPX Brands has several Converge ovens on order for its new builds and retrofits.
The ovens feature up to three independent chambers in a ventless space, creating the ability to steam, bake, grill and air fry at the exact same time, in the same oven at the highest quality. The simultaneous use of a variety of cooking applications is possible thanks to the pairing of controlled humidity with Alto-Shaam's pioneering Structured Air Technology®, which delivers vertical air for precise, consistent cooking.
"It's great to have a true partner in Alto-Shaam as we open new locations," King said. "At PPX, we are always looking for culinary solutions and tools that make our kitchens more productive and efficient while maintaining the same level of quality we are committed too. Our partners at Alto-Shaam respect and live this same philosophy. We were blown away at the possibilities with this new technology, and the collaboration was a fantastic experience for my team."
To learn more about Converge Multi-Cook Ovens, visit our product page.
Learn More