Robeson Community College
Robeson Community College Expands Culinary Arts Program with Stacking Solution
Robeson Community College educates culinary students on a variety of cooking applications with a Combi-Vector stacked configuration and Cook & Hold Smoker Ovens.
With just two Alto-Shaam oven configurations, a local community college in Lumberton, North Carolina is able to educate their culinary students on any cooking application that they would come across in the real world.
Robeson Community College purchased a one-of-a-kind stacking solution to meet their growing needs: a CTP7-20 Combitherm® oven stacked over the revolutionary Vector® Multi-Cook Oven. The culinary school further expanded their menu capability with Cook & Hold Smoker Ovens stacked.
"The equipment is amazing," said Chef Lester Locklear, the director of the college's culinary arts program. "It's just so efficient. The students are overwhelmed with how technology has changed, and how it can cook food so much faster and better."
Chef Lester began to explore potential kitchen equipment enhancements after the college and community was significantly impacted by two hurricanes in less than two years.
"Since then, it's been an upward climb to get students to come back," Chef Lester said. "Our leadership recognized the need to upgrade our equipment to give our students the best possible training, and that's where Alto-Shaam came in."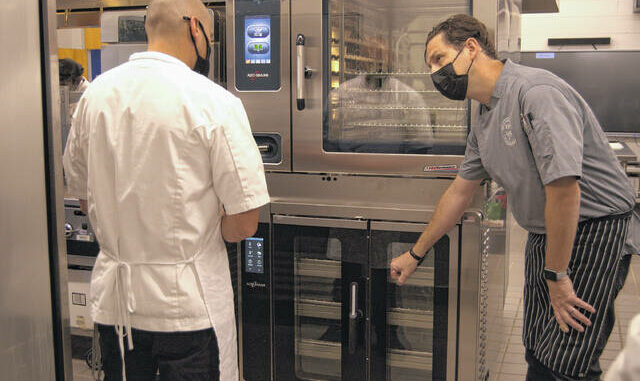 He worked closely with renowned Chef Chris Aquilino of Swanson-Girard Culinary Solutions, an Alto-Shaam manufacturer's representative, to find the right equipment for their growing needs.
"It's just so efficient," Chef Lester said. "It's great equipment."
VOLUME AND VARIETY
Robeson Community College ultimately chose a Combi-Vector CV4 stacked and Cook & Hold Smoker Ovens because of the advanced technology, as well as the consistency and volume of food that the equipment could produce.
Now with the ability to produce a high volume of food in a vertical footprint, the culinary program is able to streamline their annual community fundraiser, where they smoke over 60 Boston butts. Previously, Chef Lester borrowed a small traditional pit smoker, which was labor intensive for him and the students.
"Now, we don't need to be there until 2 o'clock in the morning smoking food," Chef Lester said.
The college has been able to utilize the stacked Cook & Hold Smokers to support the high volume of smoked meat consistently and effortlessly for the fundraiser, thanks to gentle, radiant Halo Heat® technology.
Chef Lester said they also hope to give students hands-on experience by opening a reservation-only restaurant out of the college's kitchen once a week. The Combi-Vector stacked configuration will especially equip the students to produce a high volume and variety of food for the restaurant concept, with up to five independent chambers.
"It was important that we invest in advanced cooking technology, because our goal is to ensure students go out into the field and know what equipment they will be working with," Chef Lester said. "I tell the students that it is your talent that gets you hired, but familiarity with equipment is also important, so you don't have to be trained, and you can just jump on the line."
With oven programmability, the students are able to learn and apply the process of dialing in the ideal cook settings for different food items.
"This is the kitchen of the future," Chef Chris said. "Things are moving to low labor and low skill. For the students, as they build their knowledge of the equipment, they can become that leader in the kitchen."
For more information on the one-of-a-kind CV stacked configuration, watch our on-demand webinar, Equipment Guide for Non-Commercial Foodservice.
Learn More