Alto-Shaam
The Ultimate in Cooking Flexibility
Get the ultimate cooking flexibility with our legendary combination ovens and revolutionary multi-cook ovens.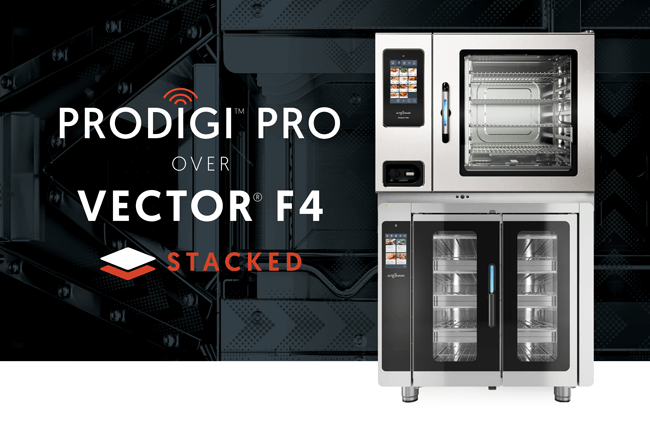 Cooking doesn't have to be a chore. Whether you're a professional chef or line cook, you need an oven that is customizable to meet your needs and intuitive enough that anyone can step in to execute your menu effortlessly. With today's labor challenges, the last thing you need is an oven that is labor-intensive for your team to manage on a consistent basis.
It all starts with an intentionally simple control. No matter how complex your menu, Alto-Shaam ovens are designed with a visual icon-based control and audible notifications that guide the entire cooking process. All deluxe models also feature ChefLinc™ remote oven management, where you can develop, push and pull recipes to your Alto-Shaam ovens—as well as update oven software, view detailed reports and more from a single location.
How Cooking Flexibility Works
Cooking flexibility goes much deeper than having an intuitive control, though. The oven technology itself must be designed for multi-functionality to streamline your kitchen operations—and perhaps even reduce or eliminate unnecessary single use equipment that is taking up valuable space in your kitchen. The latest ProdigiTM combi ovens and multi-cook ovens are solutions that can help you accomplish just that.
The Prodigi 7-20 Pro stacked with the Vector® multi-cook oven makes flexible cooking easy. This innovative stacked combination oven offers unparalleled flexibility and production capacity within a single vertical footprint - delivering maximum value without compromising quality.
The Prodigi combi oven provides unmatched production, efficiency, and superior food quality—while reducing space in your kitchen. It combines multiple cooking functions into a single appliance, doing the work of a convection oven, kettle, steamer, fryer, smoker, and more. The oven's intuitive controls also make it easy to adjust the temperature, humidity, and airflow.
Meanwhile, Converge® and Vector® multi-cook ovens, are ideal for smaller kitchens with space constraints. These ovens are both certified ventless and provide up to four independent ovens in one. The multi-chamber design allows you to simultaneously cook a wide variety of food at the ideal cook settings, at the same time, with no flavor transfer.
Both ovens feature Structured Air Technology®, which delivers high-velocity, vertical upward and downward airflow that delivers faster, more even and consistent cooking than other cooking technologies. Whether baking bread, roasting meat, or steaming vegetables, multi-cook ovens can deliver.
So, what distinguishes a Converge from a Vector multi-cook oven? Menu application. Converge ovens feature added humidity. The addition of water enables you to steam or cook with combi mode in each independent chamber, providing even greater menu application variety. The addition of water allows for automatic, self-cleaning to significantly reduce labor.
A Few Examples
So how does this work? One example of how to get the most out of a Prodigi oven is to use combination cooking for large batches of raw proteins. Using combi mode brings together the capabilities of a convection oven and a steamer. Both methods combined make energy transfer faster while adding more moisture to maintain the quality of your product. Don't worry about losing texture to your product. Switching from combi mode to convection cooking will add that texture while locking in that moisture. So, if you're making a batch of chicken wings for a bar application or for a limited time offer, the Prodigi can handle any load while maintaining consistent quality.
Alternatively, the Converge multi-cook oven contains different chambers that work independently from one another, with zero flavor transfer. Restaurants can grill a filet of salmon, bake a batch of cookies, and steam veggies – all at the same time. Each chamber has independent temperature control, fan speed, and cook times, acting as three separate ovens in one. With Converge, you get all the benefits of an advanced cooking system in a single, ventless device.
Investing in premium kitchen equipment can help ensure you serve customers delicious and consistent dishes every time. To learn more about how this solution can benefit your foodservice operation, contact us today to work with a member of our team.
If you'd like to see the Prodigi combi oven, Converge and Vector ovens in action, register for our hands-on A Taste of Alto-Shaam demonstration near you.
Save My Seat