The Davenport Grand Hotel
Davenport Grand Hotel Streamlines Event Food Production with Cook-Chill System
"Alto-Shaam has completely revolutionized what we do," Chef Allan DeViney said. "I wish every conference center or hotel would have this system, because it makes life so much easier."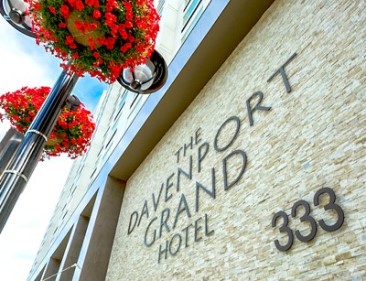 The Davenport Grand Hotel in Spokane, Washington is just one of two convention centers to utilize a cook-chill-retherm system in their area. With Alto-Shaam's fully integrated system, the hotel's convention center has reduced labor by 9 percent and food cost by 6 percent.
"Traditional banqueting has a lot of room for error," Corporate Banquet Chef Allan DeViney said. "You have to time everything out; everyone has to be on the clock at all times; and it's all hands on deck. With Alto-Shaam's retherm system, we are able to staff all of our high-end labor earlier in the cooking process so that all that's left is garnishing and saucing before service."
Serving up to 1,700 guests, seven days a week, attention to detail is essential at The Davenport Grand Hotel. The Davenport Grand stands out for its modern amenities and award-winning cuisine.
Prior to opening in 2015, Owners Walt and Karen Worthy carefully chose every detail after researching best practices of hotels and convention centers across the country. After attending an Alto-Shaam demonstration and collaborating with Pro-Pacific Agents, The Davenport Grand Hotel adopted Alto-Shaam's fully integrated cook-chill-retherm system.
"Alto-Shaam has completely revolutionized what we do," Chef Allan said. "I wish every conference center or hotel would have this system, because it makes life so much easier."
Every Step Matters
Five to six days before the event, Chef Allan's culinary team cooks all dish components using Alto-Shaam Combitherm® combi ovens—including proteins, starches and vegetables. Immediately after cooking, the food is rapidly plated and chilled down well within HACCP and FDA requirements using Alto-Shaam Quickchiller™ blast chillers. Then, on the day of the event, Chef Allan rethermalizes dishes and holds them to perfection in mobile CombiMate® heated holding cabinets with exclusive Halo Heat® technology.
"We have the timing down to a science," Chef Allan said. "If our go-time is 6 p.m., we start firing all the food at 5:30. We know that plates will only spend about 5-8 minutes in the holding cabinets, and as we get to the last plate, we have two more racks going in the oven."
Alto-Shaam offers the only cook-chill-retherm system with racks that seamlessly roll into each piece of equipment—significantly saving on time and labor. Racks can hold individual plates or sheet pans.
With this system, Chef Allan's team has been able to work with entry-level employees, including 16- to 18-year-old student apprentices in a trade partnership program.
"Anyone can sauce a plate really, and this has given us the opportunity to mentor our local high school students," Chef Allan said.
Prior to working for The Davenport Grand, Chef Allan used the Alto-Shaam cook-chill-retherm system as a catering chef at one of the largest public universities in the country.
"When I heard The Davenport Grand used a full-on plated-retherm system, I was excited to jump in," Chef Allan said. "From day one, the Alto-Shaam's chefs have been instrumental in helping us dial-in our menu."
Since then, The Davenport Hotel has evolved their menu even further—building each dish component around the retherm system.
"Our flat top grills are pretty clean and are only used for one or two things," Chef Allan said. "Every single item on the menu is written with a combi-retherm chef brain."
In addition to streamlined labor and high-quality menu execution, The Davenport Grand has also seen savings in terms of food costs and the time it takes to train staff.
"It makes everyone's life easier," Chef Allan said. "We see less product shrinkage and the trainability is super easy with built-in, touchscreen recipes. Plus, all we have to do is hit a button and the combi cleans itself at the end of the night."
Learn More