Toss & Co. Executes Entire Menu in Ventless Space
Toss & Co. Executes Entire Menu in Ventless Space
Optimizing space and reducing the amount of commercial kitchen equipment needed, Toss & Co., a healthy eatery in Dubai, is able to cook their entire menu out of their certified ventless Vector Multi-Cook oven.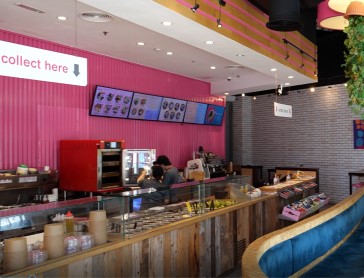 Providing fresh, healthy meals quickly during peak service, while also maintaining the highest quality food is a challenge for many restaurateurs. Doing so, while also operating a restaurant in a shared building, is a task that requires versatile and flexible cooking equipment.
For Mona Bhojwani, owner of Toss & Co., such a challenge was easily solved with teamwork, organization and the latest Vector® H Series Multi-Cook Oven from Alto-Shaam. Toss & Co. is a healthy eatery located in the popular Dubai Design District, with additional locations across the UAE.
"Initially we had some grills and ovens that were dispersing food smells in the atrium of the building where our restaurant is located, for which we received a number of complaints," Mona said. "So, we quickly began to look at solutions to counteract that. And that's when we went to visit the Alto-Shaam kitchen in Dubai and got introduced to the Vector oven, which completely changed the game."
Toss & Co. is able to cook their entire menu out of their certified ventless Vector oven, further optimizing their space and reducing the amount of equipment needed. This allows flexibility when it comes to space and restaurant layout, and saves on costs associated with a traditional kitchen hood.
"Now we cook everything in the Vector, from salmon to croissants and falafels," Mona said. "We even use the oven to make soups. The technology is so advanced that even if fries and falafels are baked, they come out crispy and golden. The meat and fish are cooked consistently and the oven emits a sound when the food is ready. We don't need someone to consistently look after them, which speeds up our service greatly."
Structured Air Technology®
Thanks to Alto-Shaam's Structured Air Technology®, Vector H Series Multi-Cook Ovens can cook twice as much food up to two-times faster than their traditional counterparts.
The patented technology enables high-velocity, focused heat for more even and consistent cooking, ensuring the highest quality output. Featuring up to four independent chambers, operators can control the temperature, fan speed and cook time in each individual oven chamber for maximum flexibility. This allows them to simultaneously cook a variety of menu items with no flavor transfer.
"I would highly recommend the Vector to any restaurateur," Mona said. "Because of its multiple chambers, we can cook different foods at the same time and at different temperatures. The oven does the job of three different ovens in one. It is completely worth the price, and the product quality is amazing. So, to anyone looking to purchase new ovens or restaurant equipment this one is a must."
Our H4 Multi-Cook Vector Oven is ideal where space is at a premium and you need the flexibility to cook what you want when you want it. Learn more about our ventless commercial cooking equipment today.
To find out more about Alto-Shaam's Vector Multi-Cook Ovens, visit our product page.
Learn More