Alto-Shaam
4 Pressing Restaurant Challenges & How to Solve Them
Here are four of the biggest challenges in the restaurant business today, along with some tips on how to meet them head-on.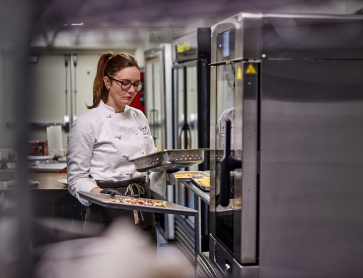 The restaurant industry has always had its challenges, whether they be changing customer tastes, razor-thin profit margins or food cost concerns.
And while those challenges remain, the events of the past several years have magnified their impact, while at the same time introducing a number of new ones. The foodservice landscape has changed dramatically, and many of those changes are likely to be around for a while.
That doesn't mean, though, that it's no longer possible to run a successful restaurant. Restaurant entrepreneurship is at the heart of the foodservice industry, and there will always be demand for dining out at local restaurants that represent the culture of their communities. With a great product, the right equipment, and a bit of luck, the industry still offers tremendous growth potential.
Here are four of the biggest challenges in the restaurant business today, along with some tips on how to meet them head-on.
1. Labor
Anyone who's been involved in the restaurant industry is likely not surprised that labor is still one of the biggest challenges facing operators today. Finding the right people who are qualified to fill positions is a difficult task, with training being largely overlooked. As the demand for labor and consumer demand increases, it paves the way for tech to shine. It requires rethinking of the kitchen space, how can be utilized to streamline processes and flow, and how everything fits together to make employee's lives and work easier.
2. Higher operating costs
One of the main ways operators are attempting to address the labor shortage is by paying higher wages. The federal minimum wage remains at $7.25/hr, where it's been since 2009, although some states have enacted higher wage requirements. Still, it's not uncommon to see restaurants offering wages as high as $20/hr or more, while still struggling to attract applicants.
It's not just wages that are on the rise, either. Food prices are on the rise as well. According to the National Restaurant Association, menu prices rose 7.7% during the last 12 months. Between June 2022 and June 2023, consumer prices increased 3%, marking the 12th consecutive month of decelerating growth since March 2021.
3. Convenience
More and more consumers are preferring to dine-in at their favorite restaurants. They especially like the human interaction and experience that comes with this. At the same time, there is also a demand for convenience, with the expectation of having their food ready quickly. If there is no space to accommodate for more customers, having the option to order ahead with a mobile device allows them to still enjoy your restaurants food by easily stopping by, picking up their order, and taking it to go. If this isn't done well or isn't an option, then they will choose to go elsewhere.
4. Changing customer tastes
Consumer tastes and preferences are ever-changing. Today, there is emphasis on healthy living, leading to changes in the types of foods consumers want to see on the menu of their favorite restaurants. According to recent Technomic data, 53% of consumers plan on eating more healthy foods over the next five years. Consumers are looking for craveable, convenient items that are nutrient rich. Plant-based, air-fried, and vegan foods are all increasing in popularity along with ethnic foods and "farm-to-table," locally-sourced offerings. Unfortunately, complicating these trends is the fact that many restaurants are struggling to adapt to them due to inexperienced staff.
Rethinking restaurant operations
Although the challenges facing operators today are significant, they aren't insurmountable. Addressing them, though, will require a bit of rethinking when it comes to restaurant operations.
When it comes to staffing shortages, one of the most effective ways to deal with the challenge is by using equipment that requires minimal skilled labor to operate. Instead of having multiple pieces of equipment that require more employees with greater experience to operate, incorporating one that can perform multiple tasks with the push of a button may be the better option.
Alto-Shaam's line of Multi-Cook Ovens with Structured Air Technology®, for example, incorporate up to four independent ovens in one, preparing a wide variety of food at their ideal cook settings in the same oven, at the same time with no flavor transfer. Thanks to the ChefLinc™ cloud-based remote oven management system, operators can push and pull recipes, view oven status, collect and store data, receive detailed service diagnostics, and more, while kitchen staff can prepare complicated dishes with the push of a button and with minimal training.
The compact size, stackability, and ventless operation of many Alto-Shaam ovens make it easy for operators to produce the same amount of food in a fraction of the space. Outfitting your space with Alto-Shaam ovens can go a long way toward minimizing space requirements, and other associated costs.
When addressing higher costs and convenience, it's worthwhile to consider an old adage in the restaurant business: Sales increases help fix a variety of problems, especially with customer demand so high. The key, then, is to find ways to achieve higher sales in the same amount of time, without adding additional staff.
One way to increase sales and convenience is by establishing a grab-n-go program. Combine a Vector® multi-cook oven with one of Alto-Shaam's Food Merchandisers or Heated Display Cases to create a program that allows customers to quickly grab the items they want and be on their way. These versatile hot food display cases and commercial food warmers feature Halo Heat® technology that provides better moisture retention and the longest holding life for displayed food. Not only can this help boost sales during lunch periods when people may be in a hurry to get back to work, but it can also simplify customer service during slow periods when staff may be limited.
And finally, by replacing fryers and grills with one of Alto-Shaam's Prodigi™ Combi Ovens, operators can easily address customers' desire for ethnic foods or better-for-you choices. These ovens combine multiple cooking functions into a single appliance, doing the work of a convection oven, kettle, steamer, fryer, smoker, and more in a fraction of the space required with traditional kitchen equipment. Substituting dishes cooked in oil for air-fried items, for example, can satisfy diners' desire for lighter fare. Thanks to the ChefLinc™ technology incorporated into many Alto-Shaam ovens, producing healthier food options can be easily accomplished. Operators of multiple locations can update the saved recipes in all their equipment in each location at once, all done from the company headquarters.
Designing product solutions now can help account for a long-term gap. Collaborate with operators on menu simplification, menu optimization, training programs and workflow efficiencies.
To find out more about how Alto-Shaam can help you improve operations, contact us to speak with one of our experts.
Talk to an Expert