Alto-Shaam
Reasons Why You Should Start an Air Fried Food Program
For many years, commercial deep fryers have been standard for creating golden-brown, crispy food. However, not without extra labor, safety and maintenance costs. With advancements in oven technology, operators can eliminate costly commercial fryers and deliver high-quality, deliciously air fried food that their customers crave.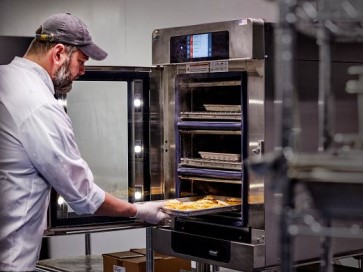 More and more, people are seeking alternatives to fried foods, but at the same time they're not willing to compromise on flavor. So if you're a restaurant operator seeking to stay ahead of new dining trends while opening the door to a host of new customers, you may want to consider ditching the traditional oil fryer in favor of an air fried food program.
Flavor without the fat
There's a reason why fried foods remain popular: they taste good. It doesn't make much difference what type of food it is, there's something appealing about that crisp, golden brown exterior. It's possible, though, for restaurant menus to feature food that has the flavor of fried without the oil: by preparing it in a commercial air fryer.
A perfect reason to implement an air fried food program is the fact that air fryers can enable operators to add a wide variety of better-for-you items to the menu, but it's not the only one. Along with catering to health-conscious customers, an air fried food program offers a host of operational and cost-saving benefits compared with commercial fryers. Those include:
Saves on oil costs
As with nearly everything a restaurant operator needs to purchase, the cost of shortening for deep fryers is on the rise. A review of recent prices for fryer oil shows that the cost of a 35-pound box ranges from $50 to nearly $100 or more. Commercial fryers need to be topped off daily, and most operators discard at least some of the oil in the fryers every week or so. That oil can't be poured down the drain or dumped into the dumpster. Although some recycling operations purchase waste cooking oil, in many cases an operator will need to pay for disposal. Air frying eliminates those issues
Eliminates labor
For operators serving both lunch and dinner, there is the need to filter the oil in a commercial oil fryer to keep food tasting fresh. That's not only potentially dangerous but labor-intensive as well. Assuming a total of two hours a day for the filtering process and kitchen workers earning upwards of $15 an hour, the cost involved in filtering frying oil could exceed $200 a week, or more than $10,000 a year. Additionally, the cost of an oil filtration machine can run anywhere from $1,000 to $3,000 or more.
Improves employee safety
Anyone who's ever spent time on the cook line has likely been burned by hot oil. A recent National Council for Occupational Safety and Health study found that 79% of restaurant workers reported being burned on the job in a given year. In 54% of cases, fryers were the source of the injury. And with a typical commercial fryer keeping oil at 350° F or hotter, those burns can be serious. Although adopting an air fried food program might not eliminate the need for a commercial oil fryer entirely, it could help minimize the risks involved.
Cleaner operation
Air-frying equipment is simply cleaner than commercial oil fryers. At the end of the day, chances are the walls behind an oil fryer, the floor underneath them, and the hood filters above them are all covered in grease. Dealing with those issues will likely consume an hour of labor each night. That adds up over the course of the year. Fail to clean those vent hoods regularly and you're putting your operation at risk of a fire.
Reduces risk of fires
According to figures compiled by the National Fire Protection Association, deep fryers are involved in one of five foodservice fires. In many cases, a failure to clean vent hoods above commercial oil fryers properly was the cause of many fires.
Perfect for small spaces
Operations from bars to convenience stores may desire to implement a foodservice program, but don't have the space to set up a commercial oil fryer. Additionally, commercial oil fryers need proper ventilation, which means taking up costly hood system space. Smaller operators may not have the space or the funds to accomplish. On the other hand, there are commercial air fryers on the market that can fit on a countertop and don't require ventilation.
Taking the next step
Although the benefits of implementing an air fried food program are numerous, without the right equipment putting a program into practice can be a challenge. Doing so requires cooking equipment that provides a high-velocity airflow sufficient to cook food to a crispy golden-brown without the oil.
Alto-Shaam's multi-cook ovens feature exclusive Structured Air Technology™ that provides consistent, even vertical airflow from the top and bottom for the perfect crispy finish to nearly any food. These ovens allow operators to prepare a healthier product while eliminating the labor and operating costs associated with commercial oil fryers.
The latest ventless Converge® Multi-Cook Ovens boost food production with the ability to execute multiple cooking applications simultaneously in up to three independent oven chambers. This means you can air fry three different items, like fish, french fries and chicken all at the same time without flavor transfer between items. You can also bake, grill and even steam other items on your menu. Flash, boilerless steam generation provides greater control over recovery, cooking times and food quality, with the ability to adjust steam volume with precision–resulting in a crispier product, 80% faster! The addition of water also allows for self-cleaning to significantly reduce labor.
Vector® H Series Multi-Cook Ovens are also ventless air frying solutions, and an ideal solution for situations with water and drainage limitations. These countertop ovens feature a compact 21-inch footprint, as well as waterless and ventless operation, eliminating the need for an exhaust hood.
Both multi-cook oven options are fully programmable and feature ChefLinc™ remote oven management. The intuitive, connected controls allow you to develop custom recipes based on the type, size and shape of your food product. With ease of operation, operators save labor and minimize training time.
Continue reading to learn how to execute an air fried food program or visit our multi-cook oven page for more information.
Learn More