Alto-Shaam
5 Reasons to Add a Pizza Program to Your C-Store Food Program
Pizza is one of the top categories guaranteed to drive c-store foodservice program sales. Discover the top 5 reasons why your convenience store should consider adding pizza to your offerings. In this guide, we also outline the equipment package that can achieve a high volume and variety of food in the smallest, ventless footprint.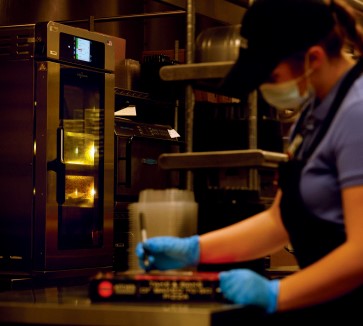 Convenience stores are popular go-to destinations for a quick and easy snack, drink, or meal. According to one CSP article, from April to October 2022 alone, the percentage of customers who prefer prepared foods from convenience stores increased from 35% to 45%. More than half reported that they purchase foodservice items once a week or more.
Despite increases in popularity, trends today also show that c-store operators still face challenges ranging from supply chain issues to labor shortages. According to recent data from foodservice research firm, Technomic, 51% of operators are concerned about higher labor costs.
Making changes such as higher pay and referral bonuses can be hard on the bottom line, meaning operators are constantly on the lookout for ways to boost profitability without having to completely revamp their stores. C-store pizza programs can be a great way to accomplish those goals and attract new consumers.
THE NEW DINNER TABLE
Foodservice has long been a part of the modern c-store and foodservice sales today are reaching levels better than expected.
Pizza is one of the foodservice categories helping to set those records. If a c-store operator isn't adding pizza to its foodservice menu, they run the risk of falling behind their competitors.
Here are five reasons why convenience store pizza programs are a great option for operators:
1. Pizza is popular
About 350 slices of pizza are consumed in the United States per second, with every man, woman, and child each eating 46 slices over the course of the year. One in eight people in the US over the age of two will eat pizza on any given day. There are a variety of reasons why pizza is so popular, but the bottom line is that it just tastes good. There's something about the combination of cheese, crust, and tomatoes that makes our mouths water.
2. Pizza holds well
A key part of any successful c-store foodservice program is the ability to prepare items in advance so customers can grab them and be on their way quickly. Pizza is the perfect solution. Operators can cook pizza ahead of busy periods, package them, and keep them in a commercial pizza display case or pizza warmer display cabinet so they're hot and ready for the rush.
3. Pizza is versatile
Although operators are likely to limit the types of pizza they serve to keep things simple, that foundation of crust, sauce, and cheese can serve as the palette on which to create an extensive menu. Pepperoni, sausage, and mushrooms are likely to be the most popular options in your c-store, but according to a CSP article, Technomic's Pizza report found that 36% of consumers' foodservice pizza orders are build-your-own or customized pizzas. Having a range of pizza options, from breakfast pizzas to desert pizzas, means there's bound to be an option that will appeal to customers and keep them coming back throughout different times of the day.
4. Pizza is efficient
Thanks to the ability to prepare pizzas in advance and either bake them as needed or stock a display case with slices, adding a pizza program won't require a large increase in staff. In many cases, a program can be managed by a single person or a few cross-trained employees. In addition, a successful program won't require a large amount of room. With the right oven, a program can be implemented with just a few feet of counter space.
5. Pizza is profitable
Many different food service locations offer enticing food options to attract customers. According to the CSP article, 64% of convenience stores offer pizza as a hot holding item. Having unique, ready-to-go food items are ideal for those on the go but still want quality food.
THE FOUNDATION OF A SUCCESSFUL PROGRAM
Any pizza program is going to require a pizza oven, and the type of oven an operator chooses is going to have a significant impact on the success of that program.
When exploring pizza program possibilities, operators are likely to come across a variety of large pizza ovens for sale. Unfortunately, most of those are likely to be too costly and require too much space to use in a c-store environment. Limited space doesn't have to be an obstacle, however.
Equipment manufacturers have developed a variety of countertop models that can handle the challenge of nearly any c-store pizza program. When it comes to choosing the best commercial pizza oven to serve as the centerpiece of a successful program it only makes sense to work with an experienced partner. And as a leader in commercial foodservice equipment, Alto-Shaam can be that partner.
Alto-Shaam's Vector® H Series Wide Multi-Cook Ovens, for example, are the perfect solution for c-store operators seeking to get into the pizza business. Featuring up to three independent oven chambers, Vector multi-cook ovens allow operators to control the temperature, fan speed, and cook time in each individual chamber with no flavor transfer.
The Vector H Wide oven is made for extra-large 16-inch pizzas, as well as sides such as wings or breadsticks, with each item being cooked at their ideal cook settings. Vector Wide ovens incorporate Alto-Shaam's Structured Air Technology®, enabling high-velocity, focused heat for faster, more even cooking, ensuring the highest quality output.
Vector Wide is a great fit for a c-store pizza program for several reasons, including:
Able to be placed anywhere. The ovens feature a compact 24" (610mm) footprint with 2 or 3 chambers. and ventless operation, eliminating the need for an exhaust hood.
Independent chamber design. Temperature, fan speed, and cook time can be controlled in each individual oven chamber to give you up to 3 ovens in one.
Cook with half-size sheet pans, hotel pans, or 16" pizza screens for maximum menu flexibility. Additional cooking accessories are available for further menu expansion.
Simple, intuitive operation for labor savings and quick training.
Door can be opened as needed. Vertical curtains of air nearly eliminate heat loss. Cooler door. No blast of hot air.
ChefLinc™ remote oven management system provides operators complete control of their ovens, menus, and business with real-time data at their fingertips.
Made in the USA.
THE LAST PIECE OF THE PIZZA PUZZLE
Packaging a Vector wide oven with Alto-Shaam heated holding products give c-stores the foundation for a successful foodservice program.
Alto-Shaam offers a variety of commercial pizza heated merchandising and display cases and pizza warmer cabinets featuring its revolutionary Halo Heat® technology. This gentle, radiant holding technology leaves food full of moisture and flavor without the use of extremely hot elements, added humidity, or fans.
Designed to boost impulse sales and drive foodservice profits, Vector ovens and heated shelf merchandisers are the perfect solutions for implementing or expanding a grab-and-go foodservice program.
Talk to an expert today for more information on how Alto-Shaam can help you launch a successful c-store foodservice program that incorporates high-quality pizza and other menu items—to keep customers coming back for more.
Talk to an Expert