Alto-Shaam
Convenient School Lunch Menu Ideas
Looking for some inspiration in creating your school's lunch menu for the upcoming school year? Check our convenient school lunch menu Ideas here!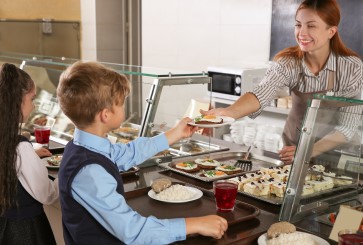 It's no secret that a key component of educational success for K-12 students is good nutrition. A host of studies have tied good nutrition to learning readiness and academic achievement as well as decreased disciplinary and emotional issues. If schoolchildren are hungry, they're not ready to learn.
And in many cases, the meals students eat at school are the best nutrition they'll receive all day.
But as schools face increases in enrollment along with decreases in funding, providing nutritious, tasty meals can be a challenge. The right kitchen equipment, though, can help simplify the task of developing school lunch menus that will have students looking forward to their noontime meal break.
Simplifying K-12 Menu Development
Years ago, K-12 school menus typically consisted of bland dishes such as chicken nuggets, burgers, or fish sticks, served with green beans or fries on the side along with a carton of milk. Talk to anyone 50 or older, and they're likely to tell you how the school lunch menu served as the basis for both jokes and horror stories.
Today, though, school meal programs have grown increasingly complex, with a full slate of healthy breakfast and lunch menus created by a certified dietitian, along with delivery options for students attending classes in a facility without a commercial kitchen. Many of these rigid health and nutritional meal requirements are meant to combat childhood obesity and improve overall health. According to the Healthy, Hunger-Free Kids Act of 2010, one in three children in America are considered overweight or obese, where schools are on the front lines to combat this issue. Programs, such as The National School Lunch Program, are put in place to provide balanced, nutritional, low or no-cost lunches to children in schools each day.
Fortunately, incorporating equipment from Alto-Shaam makes the task of managing high-volume, nutritional school menu programs a breeze.
School Breakfast Menus
Breakfast is often called "the most important meal of the day" and a healthy breakfast serves as the fuel to help jumpstart the learning process. Not only that, but breakfast can serve as an incentive for students to arrive at school a bit early. In addition, it can help alleviate the stress of working parents who may be in a rush to get the kids fed and ready for school while at the same time preparing for their own workday.
Incorporating a school breakfast program doesn't have to be complicated. According to the Philadelphia-based Nutritional Development Services, a typical school breakfast menu that encourages students to eat healthy might consist of a whole grain entrée such as an apple-cinnamon muffin, mini maple pancakes, or an egg & cheese bagel, a half-pint of low-fat or fat-free milk, and two servings of fruit, such as fresh fruit, applesauce, raisins, or 100% fruit juice.
Prepackaged muffins, for example, can be warmed and held in one of Alto-Shaam's heated shelf merchandisers as the foundation of a grab-n-go program that requires minimal staff to implement. Simply pair those muffins with fresh fruit, applesauce or yogurt, and low-fat milk for a breakfast that will have students looking forward to the day.
To add a bit of variety, replace those muffins with pre-prepared sausage and biscuit sandwiches, pancakes, waffles, or breakfast burritos, heated up in an Alto-Shaam Cook & Hold oven for quick replenishing of the grab-n-go area.
More detailed breakfast dishes such as scrambled eggs, corned beef hash, or breakfast casserole can be prepared in an Alto-Shaam Prodigi™ 7-20 Pro combi oven and held in a temperature-controlled waterless food well for individual service. Add a staple piece in your kitchen without worrying about remodeling or trying to make space under a vent hood. Prodigi combi ovens have the option for Ventech™ and Ventech™ PLUS Type 1 condensation hoods for select models, making for a great ventless piece of equipment that can be placed anywhere in the kitchen.
School Lunch Menus
When it comes to school lunch menu ideas, Alto-Shaam kitchen equipment offers the ability to expand lunchtime options beyond the traditional fish sticks or mystery meat. Here are a few possibilities for main dishes:
Low-temperature chicken breast – for a high-protein, low-fat meal, try chicken breast prepared in an Alto-Shaam Cook & Hold oven. Simply season the chicken breast with olive oil, salt, paprika, and other seasonings of your choice and cook for 6 minutes at 250°F. The chicken can be held for an hour at 160°F, allowing service for multiple lunch periods.
Smoked brisket tacos – For an interesting take on Taco Tuesday, try smoked brisket tacos prepared in Alto-Shaam's Cook & Hold Smoker and combi ovens. Thanks to the pre-programmable recipe features of those ovens, brisket can be cooked overnight prior to service, then shredded and held in the morning in anticipation of a hungry lunchtime crowd.
Bacon cheeseburgers – to cater to the simpler tastes of a younger crowd, elementary school lunch menu ideas might include bacon cheeseburgers with a side of tater tots and roasted vegetables. Simply cook the beef patties in one chamber of Alto-Shaam's Vector® multi-cook oven, and the bacon, tater tots and vegetables in the others. Independent chamber design allows you to cook multiple food items simultaneously—without flavor transfer. With up to four ovens in one, Vector multi-cook ovens ensure food is hot, fresh and cooked at the highest quality for service.
Hot dogs – What child doesn't love a good hot dog? With Alto-Shaam's Cook & Hold oven, preparing hundreds of hot dogs at once is easy. Simply lay the hot dogs (or smoked sausage or bratwurst or chicken sausage) side-by-side on a sheet pan. Add just enough hot water so that it just covers the bottom of each pan. Cover each pan with clear plastic wrap. If it's a full load, cook for 1½-2 hours at 250°F, and hold at 160°F for up to 6 hours.
Alto-Shaam Makes It Easy
These are just a few of the menu ideas possible with Alto-Shaam cooking equipment. Our ovens offer a variety of features such as pre-programmed K-12 specific recipes, multiple cooking accessories, a variety of cooking applications, and much more to meet the needs of your school foodservice program.
Growing minds require tasty, nutritious food to fuel a full day of learning. Whether you're looking to expand your school breakfast and lunch programs, or just make them more efficient, Alto-Shaam has you covered.
Learn more about how to serve students the high-quality food they love with equipment solutions from Alto-Shaam.
Learn More