Alto-Shaam
Energy Efficient Commercial Kitchen Equipment
Our innovative lines of energy-efficient kitchen equipment will help you cook quickly, easily, and efficeintly while reducing energy costs.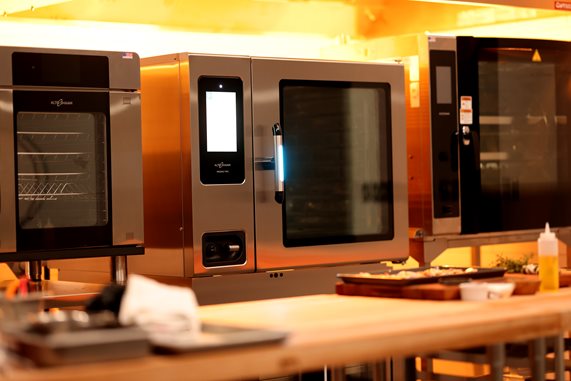 Are you tired of paying high electricity bills for your restaurant? Alto-Shaam's breadth of commercial kitchen equipment can help you save both energy and money. These ovens will not only help you cook delicious meals at a faster pace, but they are also easy to clean after a long day or week of heavy use.
Our advanced cooking equipment works efficiently, so you can reduce energy consumption and keep more money in your pocket. Our products come with either manual or programmable controls, making them easy and efficient to use.
Here are some examples of our energy-saving kitchen equipment:


Prodigi™ Combi Ovens
Prodigi™ combination ovens combine multiple cooking functions into one oven. It uses steam, convection, and combination to cook food evenly and quickly. Food is now produced 20% faster than other combi ovens and up to 80% faster than convection technology.
With ENERGY STAR® rated models, you can save significant energy using select Prodigi combi oven models. Boilerless steam generation provides superior performance while using 80% less water, extending equipment lifetime and reducing maintenance costs compared to traditional boiler-based models. These low-maintenance ovens save energy with automatic cleaning. This makes it easy to keep your Prodigi combination ovens clean without manual labor, with options to choose from "light clean" to "heavy plus".
Upgrade your restaurant today with Prodigi combination ovens


Multi-Cook Ovens
Our advanced multi-cook ovens use special features to reduce your energy usage while still delivering delicious food in no time. Vector® multi-cook ovens are completely waterless units that save on installation, space, and associated maintenance costs. Multiple items can be cooked at the same time, in the same oven, with no flavor transfer, significantly increasing flexibility.
In a similar light, Converge® multi-cook ovens combine the flexibility of a multi-cook oven, the power of Structured Air Technology®, and the versatility of combi cooking. Now you can steam, air fry, bake, grill and more in the same oven with the independent chamber design.


Cook & Hold Ovens
Imagine cooking a delicious meal for your customers and still saving energy and money. That's what Cook & Hold ovens can do for you. These ovens use special Halo Heat® technology to cook food evenly and keep it at the perfect temperature until you're ready to serve. And the best part? You can save up to 30% of the energy you usually use. Since this radiant heat is gentle and cooks low and slow, operating Cook & Hold ovens costs less than $2 per day to operate.
What's more, you no longer need to worry about unevenly cooked dishes thanks to the gentle, radiant cooking and holding technology. A unique thermal cable is wrapped around the oven cavity to surround food with precise, low temperature heat throughout the cooking and holding process, retaining moisture and flavor in food. And because it works with less energy than traditional methods, you save money in the long run.
Additionally, Cook & Hold ovens produce less food waste and minimize food costs with 15-20% less protein shrinkage compared to conventional cooking. Now, operators can serve more portions from the same cut of meat and increase profit margins by doing so.


Alto-Shaam is the perfect partner for your restaurant. Our advanced kitchen equipment can help you save energy and money while still delivering delicious meals to your customers. You don't have to choose between great meals and high energy costs. Our ovens will help you cook quickly, easily, and efficiently - all while saving money.
Request a Quote