Alto-Shaam
Holding Equipment for Off-Premises Food Programs
When your business creates food for off-premise programs, your holding equipment is as essential as your oven. Read about our gentle, precise heated holding equipment.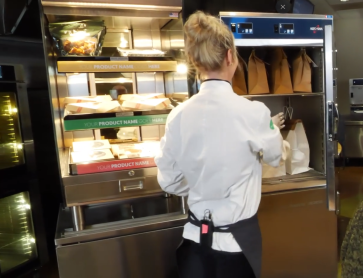 In the busy hustle and bustle of the commercial kitchen, there are many things to manage to make sure everything is running smoothly. From food prep to meal presentation, every second counts when a hungry customer eagerly awaits their meal on the other end. There is no room for error in a professional and sought-after food operation. One bad experience can turn a customer away forever, but an excellently-prepared meal can hook them for life.
Now, imagine the frustration of creating a perfectly mouth-watering dish, only to have it ruined due to subpar holding equipment. No one wants a soggy, cold sandwich or a chicken breast that's dried and overcooked. When your business creates food for off-premises programs, your holding equipment is as essential as your oven. We've outlined some of our favorite heated holding equipment to avoid a holding equipment kitchen catastrophe. With so many tasks to manage, you can rest assured that you will deliver consistently mouth-watering food that's packed with a punch effortlessly.
AN OVERVIEW OF HEATED HOLDING EQUIPMENT
Powered by Alto-Shaam's gentle yet precise Halo Heat® technology, our heated holding equipment will keep your ready-to-eat dishes full of flavor - and moisture - until the moment your customer takes that first bite. Our heated holding options ensure top-quality food while enabling your operation to maximize speed and consistency.
The unknowns of delivery can result in a bad customer experience. Heated holding removes the variables of a delivery service by keeping the food hot and fresh until the moment it's at the customer's doorstep.
HOW TO UTILIZE HOLDING FOR DIFFERENT PROGRAMS
Whether you deliver food to a third party or offer pick-up or curbside delivery, Alto-Shaam has a range of heated holding equipment to meet your operation's specific needs.
STAFF MANAGED CURBSIDE DRIVE-THROUGH
Holding cabinets present the ideal heat-and-hold option for drive-through or pick-up operations. To-go orders can be staged for easy access during customer handoff with a pass-through door for easy loading from the back of the unit. Maintain optimal moisture with the vented doors, and the cabinets have no fan, so there's no risk of the food drying out. Halo Heat technology gently distributes heat, so the food is kept at the optimal temperature until your customers are ready to go.
GRAB-AND-GO HOLDING
For the customer-facing or grab-and-go operation, Alto-Shaam's Heated Shelving Merchandisers offer reliability with a front-of-house appeal. The merchandiser can be placed on the counter or in the front of the house and contains multiple shelves to hold a variety of food options. Whether you're serving rotisserie chickens or baked potatoes, the temperature of each shelf is individually adjustable with Halo Heat technology, so there's no worry that the food will dry out. Each food item on each shelf is held at the proper temperature. The 180-degree visibility and warming LED lights beautifully display food to entice customers. For convenience during peak hours, staff can easily restock food from the pass-through window on the rear of the unit.
Whether you're running a big franchise or a small business, we're here to provide customized solutions for your kitchen. Our variety of heated holding options keep your delectable dishes mouth-wateringly fresh. Choose a mobile or stationary heated holding solution for your food truck, banquet, hotel, or high-end eatery.
Learn More