Alto-Shaam
How to Handle Staffing Shortage with Increased Dine-In Demand
The current conditions of the labor market have left foodservice operations short on staff, while demand continues to rise. In order to keep up with dine-in demand, kitchens need to make adjustments.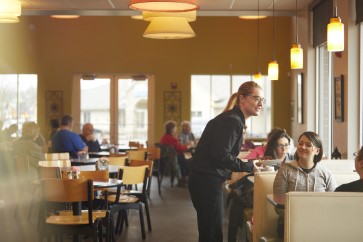 Foodservice operations of all types face both opportunities and challenges. A lingering challenge that many operations today face is the shortage of labor and filling back of house staff. Trends today show that consumers crave the experience that on-premise locations tend to offer, as well as takeout and delivery remaining important.
Now, operators are being confronted with an issue that could potentially derail that demand: how to handle surging demand with limited restaurant staff?
The Restaurant Labor Shortage: What's Going On?
It's no secret that businesses of all types are experiencing staffing shortages. The U.S. Bureau of Labor Statistics pegged the number of job openings across the country at 9.6 million.
At the same time, though, the BLS reports that 5.8 million people remain unemployed.
The reason for the high number of job openings while so many people remain out of work are varied and complex. The answer likely is a combination of factors. Still, the fact remains: foodservice operators ranging from convenience stores to supermarkets to QSRs and fine dining restaurants are in a situation where they need to operate their businesses with fewer workers.
Tips on How to Handle Reduced Staff
Unfortunately, the restaurant labor shortage is likely to remain until the end of the decade. With that in mind, here are steps operators can take to serve their customers while coping with a staff shortage:
Cross-train your employees
Forget the notion that cashiers only work the front counter and cooks stay in the kitchen. Training that cashier so they're able to fill a spot in the kitchen or teaching cooks how to work the POS system can be a lifesaver if one of your workers calls out.
Scale down your menu
Years before, many fast food operations expanded their menu beyond the basic burgers and fries, adding everything from chicken tenders to Caesar salads. Unfortunately, those expanded menus brought with them the need to add additional staff, not to mention the need for additional training. If it's not a big-selling food item or part of your core concept, consider dropping it.
Instead, design product solutions now to account for a long-term gap. Collaborate with operators on menu simplification, menu optimization, training programs and workflow efficiencies.
Consider incorporating "speed scratch" products
Operators often want to incorporate "made-from-scratch" dishes on their menu, but doing so with limited staff can be difficult if not impossible. What is possible, though, is to combine ready-made products with a few fresh ingredients for that made-from-scratch taste. For example, utilizing a quality pre-baked pizza crust or prepackaged smoked sausage with fresh mozzarella and vegetables for an authentic pizza program menu.
Automate some restaurant processes
Many of today's commercial ovens and other kitchen equipment include features that allow them to be pre-programmed for certain menu items, cook via several different methods, and cook a variety of items at the same time. Alto-Shaam's Prodigi™ combi ovens, for example, do the work of a convection oven, kettle, steamer, fryer, smoker, and more.
Alto-Shaam's Vector® multi-cook ovens combine the power of up to four ovens into one, allowing the simultaneous, high-quality preparation of a wide variety of food. Thanks to Structured Air Technology®, there's no need to rotate product, freeing up staff for other tasks.
Our low-temperature Cook & Hold Ovens enable operators to reclaim 12-18 hours of unused time with overnight cooking and holding. There's no need to spend hours training staff on how to cook food; the oven does the work for them. The ability to cook food low and slow is accomplished thanks to Halo Heat® technology. This low-intensity, radiant cable that is wrapped around the oven cavity evenly surrounds food without the use of extremely hot elements, added humidity or fans.
All of the above solutions feature ChefLinc™ remote oven management for seamless, multi-step programmable recipes that automate processes and save labor. Reduce training time with the ability to easily upload recipes and push to all locations. There's no longer a need to drive to each location with a USB and manually install updates, recipes, or LTOs. Simply choose a programmed recipe on your oven in the global recipe library, and let the oven get cooking. Further, operators can view valued insights, data, and reports on all ovens, no matter where they're located.
And to further help save on labor costs, Alto-Shaam also provides ovens with self-cleaning capabilities and automatic grease collection to reduce the number of manual closing duties in the evening.
Prepare items in advance
Having items ready to go in advance of the lunch or dinner rush can greatly speed up service while at the same time reducing stress on workers. Consider the case of Dublin's Thunder Road Café, which faced the challenge of labor costs and keeping up with their demand of more than 3,500 customers per week.
The solution was Alto-Shaam's heated holding solutions with Halo Heat technology, a Cook & Hold Smoker oven, two Vector® multi-cook ovens, and more. With this range of equipment solutions, they were able to relieve multiple pieces of equipment, prepare quality food ahead of peak service, and reduce stress.
Reduce Labor and Costs with Alto-Shaam
If you've spent any time at all running a foodservice business, you've likely found yourself working with employees who've been on the job a week or less. Maintaining standards while at the same time coping with staffing shortages and rising labor costs can be a challenge for even the savviest operators.
To learn more about Alto-Shaam's labor-saving products, attend an upcoming webinar or register for A Taste of Alto-Shaam demonstration near you. Once you've seen the power of our commercial foodservice equipment, you'll know why operations around the world rely on Alto-Shaam to help serve their customers.
View Products