Alto-Shaam
How to Manage Rising Labor Costs
Rising labor costs are an ongoing challenge in the foodservice industry. Learn how food service managers can navigate while still maintaining profits.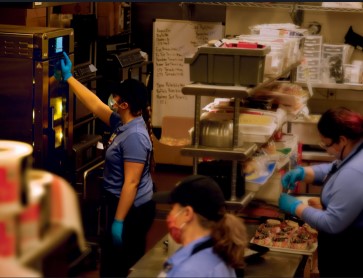 Today's shortages in the labor market have put extra pressure on employers to raise wages so that they can stay competitive. This is especially true for the food service industry, where unfilled job openings have significantly increased. Many restaurants and food service operations are having difficulty staffing their kitchens with line cooks, chefs and other key back-of-house roles.
Below, we've shared how to navigate ongoing labor challenges with smarter business practices and cutting-edge equipment that enables operational efficiency with less staff, while maintaining the highest quality food.


Labor Costs Today
Employers are facing growing pressure to raise wages to stay competitive in the market. Employees are looking for higher wages as a few states push for a minimum wage of $15 per hour. To help lower costs while still employing a skilled workforce, food service operators are looking for smarter solutions that boost efficiency in all areas of their business. Luckily, there is equipment on the market designed to help food service professionals mitigate these labor challenges. Here are a few equipment features that help cut costs and improve efficiency:


Labor Savings
The latest cooking equipment can enable operators to streamline workflows and reduce required labor and training. From ventless technology to a commercial indoor smoker, equipment that is tech-forward can help your business save money. A few key features to look for in labor-saving equipment include:
Cut Overhead and Food Costs
Rising labor costs can also be offset with equipment designed to efficiently utilize resources. Ovens, such as a Cook & Hold oven can come in handy when it comes to reducing overhead and food costs.
Alto-Shaam gives your business options for navigating rising labor costs with our equipment, such as the commercial cook and hold and commercial ventless hood oven. Whether you need a ventless hood system or indoor smoker, we've got you covered. Consider switching to a ventless oven if you need to address labor costs and enhance food quality.
For more information on Alto-Shaam's labor-saving commercial food service equipment solutions, visit our top tips to increase profits.
Learn More