Alto-Shaam
Tips for Navigating the Challenging Foodservice Labor Shortage
Navigating the current foodservice labor shortage is certainly a challenge for the restaurant industry. Here are a few tips for thriving amid the crisis.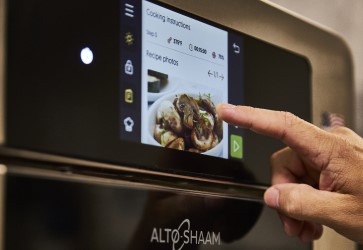 Whether or not someone is associated with the restaurant industry, it's a good bet they're aware of the severe labor crisis affecting the global foodservice market. Drive down the main thoroughfare in nearly any town in the country, and you're likely to pass a variety of "now hiring" signs. The impact of the labor crisis can be seen in closed lobbies, long lines at the drive-thru and restaurants closing early, all due to lack of staff.
According to the Bureau of Labor Statistics. there are 9.8 million job openings around the country. One report from research firm Black Box Intelligence found that full-service restaurants are operating with 2.8 fewer workers in the front of the house and 6.2 fewer employees in the back of the house compared with pre-pandemic staffing levels.
Still, there are steps an operator can take to cope with the labor shortage. Here are a few tips for thriving amid the crisis:
Tip 1: Increase wages
Of course, raising pay is the most obvious, and nearly everyone is doing it. The Black Box report found that limited-service hourly wage in the second quarter of 2021 increased by 10 percent compared with the same period the previous year. One study estimates that it costs $5,864 to replace an employee, factoring in training time, wasted product, lost sales due to dissatisfied customers, and so forth. Paying employees more may end up saving money.
Still, that may not be enough to stand out from the crowd.
Tip 2: Retain the staff you have
Nearly everyone these days is offering sign-on bonuses to new workers, but what about the staff you already have? Recognize those long-time employees with a milestone bonus. And not every incentive needs to be cash, either. A little extra in the paycheck will be quickly spent and forgotten, but a reward such as a jacket with the brand's logo will be worn with pride for a long time.
Tip 3: Review your workplace environment
Although many restaurant workers indeed leave their jobs for a better-paying one, that's not the only reason workers quit. Often, workers leave because they don't like their boss. Conduct an exit interview whenever someone leaves, and if too many say they quit because of a toxic work environment. It may be time for a change. If someone on the management team is driving away employees, that person is costing you money.
Tip 4: Always be recruiting
That may paraphrase a popular sales saying, but it's good advice. Never pass up the opportunity to reach out to potential workers, even if you're fully staffed. The CEO of Southwest Airlines mentioned in an interview that his order from a popular hamburger chain came with a job application stapled to the bag. And while it's not likely he'll be working the grill any time soon, you never know where your next star employee will come from. If you wait until you're down several crew members you'll struggle to catch up.
Tip 5: Use new recruiting techniques (social media, referral bonuses, etc.)
Along with Now Hiring signs by the street or on the marquee, advertise on social media. Also, get your current employees to recruit their friends by paying them a bonus for every new hire they bring in. And don't overlook new and unusual ways to attract the attention of potential employees. Some restaurants have been promoting a "start today – get paid tomorrow" program in hopes that once workers get a taste of cash they'll have an appetite for more.
Tip 6: Invest in labor-saving equipment
Many of the tips mentioned above, depending on how they're implemented, could potentially increase labor costs. If implementing these isn't for you, consider opportunities to optimize labor in the back of the house. Investing in labor-saving equipment can help you reduce training time with intuitive controls and programmable recipes. This type of equipment requires little if any monitoring which can result in a kitchen capable of serving more customers with fewer employees.
Buckshot's Saloon & Eatery in Eagle River, Wis., for example, was faced with a crippling labor shortage and needed an oven that boosted productivity in the kitchen while preserving the restaurant's reputation for providing the highest quality food and service. Alto-Shaam's Vector® H series wide multi-cook oven allowed kitchen staff to simultaneously cook a variety of menu items with no flavor transfer, including pizzas, seared ahi tuna steaks, bacon, grilled chicken, and more, without cooks needing to babysit the oven during the cooking process.
Rising to the labor challenge
Whatever the future may hold, it's a safe bet that labor issues will continue to be a concern for the restaurant industry.
To survive and thrive, operators are going to need to rethink the way they prepare the food they serve. Kitchen staff will likely need to do more with less and perform their jobs with less training time.
The foundation of the restaurant industry going forward will be built on smarter kitchen equipment that can do more and can do it more quickly than the equipment of the past. Click here to see how Alto-Shaam equipment is designed to help you prepare for that future.
Learn More