Alto-Shaam
What Is Ventless? The Types of Ventless Ovens
New to ventless kitchen technology? Learn more about ventless ovens, and why they're perfect for many commercial kitchen applications here!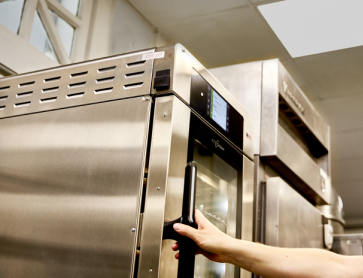 As margins tighten, rents increase and labor costs become a greater and greater hit to the bottom line. Restaurant operators are seeking to do more with less.
For many, that means locating their operation in a small space that may not have been designed for a restaurant. They might be launching their business in a building that previously hosted a retail store, or in a space on the first floor of an office building or apartment complex.
And as a small business operator, they may not have the startup capital necessary to install a complicated, space-consuming venting system. With the costs of installing a traditional kitchen hood running $2,000 or more per linear foot, and even more to operate every day, a ventless oven may be just the ticket to preparing high-quality food in a limited space.
What is a Ventless Oven?
As the name implies, a ventless oven does not require a venting system to carry away grease, smoke, or other cooking vapors. Instead, they use air recirculation and catalyst technology to convert grease and other volatile organic compounds into harmless CO2 and H2O.
Environmental Protection Agency rules for ventless technology, known as the EPA 202 standard, limits oven emissions to no more than 5.0 mg/m3 of grease-laden air. Tests are conducted using foods that may emit a high amount of grease-laden vapors, such as raw chicken. If the tested emissions of an oven are below EPA limits when cooking those items, they'll likely be lower with other food products.
There are a variety of ventless ovens and ventless hood technology on the market today.
Type of Ovens
Speed cook ovens - Also called high-speed ovens, microwave hybrid ovens, rapid cook ovens, and similar names, speed cook ovens, are smaller and cook faster than conventional ovens. They include a component such as a microwave, and some include a grill component as well. The microwave assist feature often results in poorer food quality simply due to the nature of microwaves. Such ovens don't do well with bread or raw proteins.
High-speed impingement ovens – Unlike convection ovens that use fans to move hot air throughout the oven, impingement ovens force heated air through nozzles to rapidly heat the surface of the food. Many ventless high-speed impingement ovens also meet the EPA 202 standard. The downside of impingement ovens is that they tend to result in poorer food quality. The uneven flow patterns result in a deflection of airflow that can lead to inconsistent cooking.
Multi-cook ovens – Multi-cook ovens combine several cooking chambers into a single unit, allowing for the cooking of multiple dishes at the same time with no flavor transfer, Alto-Shaam's Vector® multi-cook ovens and Converge® multi-cook ovens, for example, are ideal for operators looking to produce a variety of food in a ventless space. These countertop ovens provide up to four independent cooking chambers in a single unit, allowing you to cook different food items simultaneously at the ideal temperature, fan speed, and cook time control.
Both Vector and Converge multi-cook ovens leverage Structured Air Technology®, a high velocity, vertical airflow that allows for multiple cooking applications ranging from air frying to baking, roasting, and more. Alto-Shaam's Vector H Series is certified ventless under EPA 202 when tested using raw chicken.
Ventless oven hoods:
Alto-Shaam also offers a line of ventless oven hood systems that can be paired with a variety of its Prodigi™ combi ovens to eliminate the need for expensive oven hoods and costly hood installations, allowing operators to place the ovens anywhere in the kitchen.
Available on single or stacked models, Ventech™ hoods condense steam while capturing and removing grease-laden air, vapors, and lingering smoke. No separate power supply for the hood is required—power for the condensation hood is sourced directly from the oven. Condensation hoods are available as a factory-installed option, and field installations are also available.
Go Ventless with Alto-Shaam
To learn more about introducing a ventless food program, watch Alto-Shaam's on-demand webinar or visit our ventless technology page.
Learn more