750-TH/II Cook & Hold Oven Classic Control
Adapts any menu and every space. The 750-TH/II Cook & Hold Oven uses gentle, radiant heat to braise, roast, bake, proof and more. All while maximizing space. Low-profile casters allow the unit to be placed almost anywhere, even beneath a standard counter. Our commercial warmer ovens can also be stacked with an identical oven, 750-S Holding Cabinet, or 767-SK/III Smoker Oven.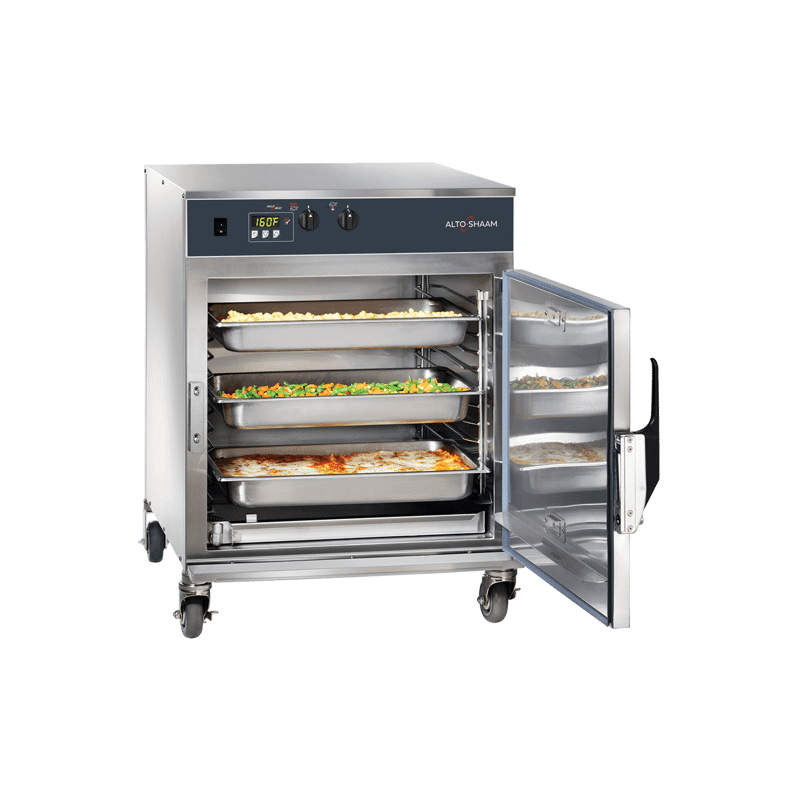 See What Sets Our Cook & Hold Oven Above the Rest
Halo Heat technology in our Cook & Hold Oven provides the greatest moisture retention and most even cooking. Equipped with a unique thermal cabling, the oven cavity is surrounded with gentle, precise heat to evenly cook food. No fans. No harsh heating elements. No added humidity.
Place Our Ventless Oven Anywhere. No traditional oven hood or outside venting required. Save on hood installation and operating costs. Waterless design further reduces costs with no plumbing, drains, filtration or associated maintenance.


Natural Meat Tenderization. Halo Heat technology honors every cut of meat from end to end—providing a better quality product at a lower cost. Our cooking and holding oven will help you make the most of less expensive, underutilized cuts of meat and achieve a moister, tender product. One hour in the Cook & Hold Oven is equivalent to 1-2 days of dry aging.
Labor-Free Cooking. Reduce labor and operating costs with lights-out production. Reclaim 12-16 hours of nonproductive cooking time with overnight cooking and holding.
Increase Productivity. Provide a better distribution of workloads and relieve multiple pieces of equipment. Roast, proof, braise, reheat, ferment, sous-vide, hold and more in the same commercial oven with set-and-forget controls.
Advanced Controls. Cook-and-Hold Ovens are designed intentionally simple with an intuitive, user-friendly interface. Programmable recipes ensure consistency with each cook.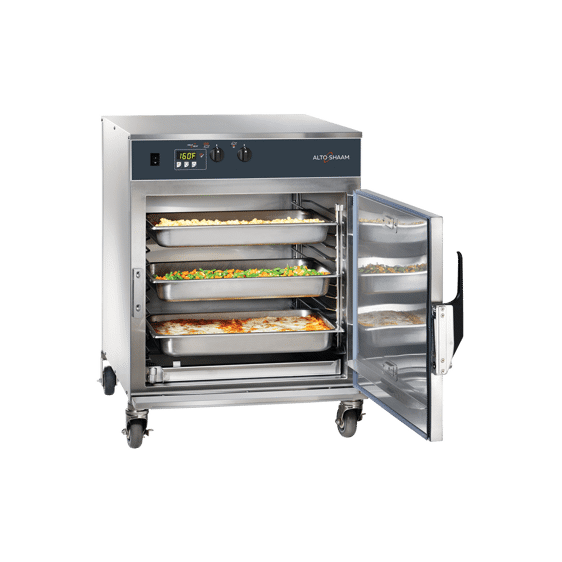 750-TH/II COOK & HOLD OVEN KEY FEATURES
- Maintain food quality and hold product at perfect serving temperatures with our commercial warmer oven for hours without overcooking or drying out.
- Cook by time or by temperature probe with simple or deluxe controls. The cook-and-hold oven senses internal product temperature or time and automatically converts from cook mode to hold mode once set parameters are reached. Up to six removable probes available on deluxe control models.
- Put product on display in our commercial oven for customers and kitchen staff with the glass door option and in-door, adjustable LED lighting.
- SureTemp™ heat recovery system assures immediate compensation for any heat loss whenever the oven door is opened and provides an audible reminder if the door is left open for more than three minutes.
- Produce less food waste and minimize food costs with 15-20% less protein shrinkage compared to conventional cooking. Serve more portions from the same cut of meat to increase your profit margin.
- No moving parts or added water in the cook-and-hold oven makes oven cleaning effortless. Simply remove oven shelves and wipe clean.
- Save on energy costs with gentle, radiant Halo Heat technology. Our commercial cook-and-hold ovens cost less than $2 per day to operate.
- Eliminate the need to manually log temperatures each hour. HACCP data logger automatically tracks food temperature readings and operation mode by date and time – all downloadable onto a USB flash drive.
- ChefLinc™ remote oven management system provides operators complete control of their ovens, menus and business with real-time data at their fingertips.
- Made in the USA with a commitment to quality.
750-TH/II Product Details
Capacity
6 Full-Size Hotel Pans (4")
10 Full-Size Hotel Pans (2-1/2")
6 GN 1/1 Pans (100mm)
10 GN 1/1 Pans (65mm)
Dimensions H x W x D
37-7/8" x 26-5/8" x 31-5/8"
809mm x 676mm x 802mm
Videos
Our collection of videos is full of additional product information to give our customers the information they need to achieve a greater return on their investment. To learn more, explore our collection of videos for additional information including instructional videos, customer testimonials and how-to videos.
Support
At Alto-Shaam we understand that the oven is the centerpiece of any kitchen.
That's why we're relentlessly driven to design and manufacture products that perform flawlessly in the most demanding conditions to give operators confidence and consistency in every meal. And our team is just as committed to providing industry-leading service and support. From installation consultation to equipment training to around the clock, every day technical assistance to culinary support — you can trust that we are here for you.
SDS, DECLARATIONS & IEC REPORTS
Halo Heat Technology®
Experience better food quality and higher yields with Halo Heat® technology. Unlike traditional heated holding or low temperature cooking technologies, temperatures created by Halo Heat technology don't fluctuate to extremes. This gentle, radiant heat evenly surrounds food without the use of extremely hot elements, added humidity or fans.