Alto-Shaam
4 Tips for Choosing an Efficient Combi Oven
Prodigi™ combi ovens are intuitive and versatile, supporting the most demanding kitchens. Get helpful tips to make an informed purchase decision and streamline operations.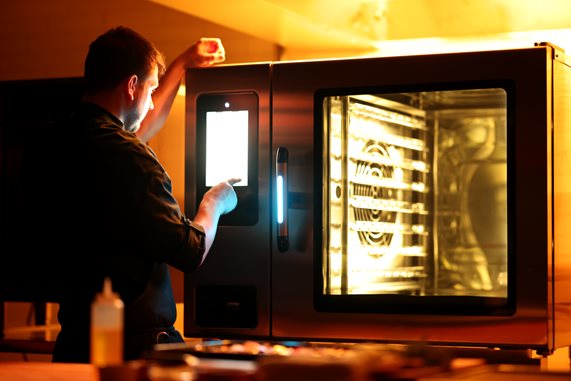 Whether in the restaurant or hospitality industry, ensuring that your kitchen is running efficiently is key. One way to do this is by investing in Prodigi™ combination ovens— but do you know what to look for when choosing one?
We will discuss four helpful tips for finding a Prodigi oven that best suits your needs. You'll learn about a few of the main features and qualities to consider when selecting the perfect appliance for your commercial kitchen.


What Are Prodigi Combination Ovens?
When shopping for Prodigi combi ovens, there are some essential things to remember. Combi ovens use a unique cooking technology that combines convection, steam, and combination cooking. This means you can adjust the temperature and humidity levels to cook different food items with just one appliance! Steam, kettle, air fry, smoke, and more, allowing for a variety of cooking applications.
With capacity options from fitting 6 pans to 40, there's bound to be a size to fulfill any kitchen's menu needs.


How Do You Select the Right Prodigi Combination Ovens?
Here are four questions to ask yourself when shopping for Prodigi combi ovens:


Tip #1: Ease of Use
How easy is it to use?
Prodigi combi ovens feature a control so easy to use, you will be surprised you are working with an oven that has such complexity to its cooking applications. With an intuitive, customizable control, adjusting the touch-screen functionality makes cooking simple. Imaged based, programmable recipes make it so any level of labor can use these ovens, taking stress out of the operators mind and allowing for them to prioritize other tasks.
For further effortless functionality, ChefLinc™ remote oven management system allows operators to ensure consistency by executing automatic software downloads, pushing and pulling recipes across any location, viewing detailed reports, and more, all from one location.


Tip # 2: Consider Space & Ventilation.
What kind of space and ventilation do you need?
Depending on where you want to place your oven, you may need specific amounts of clearance between it and other equipment - or you could get an Alto-Shaam combi oven with a zero-clearance design, allowing you to fit it next to any piece of equipment, saving valuable space under the hood - or place it anywhere that suits your needs!
You can also save some money and maximize space by investing in Ventech™ Type 1 ventless hoods. These hoods condense steam while capturing and removing grease-laden air and food vapors, adding additional flexibility to your kitchen space. Traditional kitchen hoods cost approximately $2,000 per linear foot to install, and additional costs to run it daily. Operators who have a combi oven with a Ventech hood remove these costly restrictions, so operators can maximize space and place the oven anywhere!


Tip #3: Evaluate Energy Efficiency
Do you want your oven to be energy efficient?
Look out for sustainable technology which will lower electricity and water usage - Alto-Shaam's EcoSmart designs are built to consume less water and less electricity, and still achieve quality results.
Prodigi Combi ovens use boilerless steam generation, using 80% less water, extending equipment lifetime and reducing maintenance costs compared to traditional boiler-based models. They are also 40% more energy efficient and have a 60% higher production compared to conventional technologies.
Learn more about Energy Efficient Commercial Kitchen Equipment


Tip #4: Dependability
How reliable will your Prodigi combi oven be?
The performance and reliability of a Prodigi combi oven are crucial to keeping your kitchen up and running. Engineered for dependability, Prodigi combination ovens are designed to be an indispensable centerpiece in the kitchen — backed by industry-leading service and support.
With the option of a removable probe, this addition decreases oven downtime and repair costs. They are easily replaceable and easy to calibrate for improved reliability.


Conclusion: Remember These 4 Tips When Choosing a Prodigi Combination Oven
When choosing an efficient combi oven, there are four essential features to look for. First, understand your kitchen's needs and look for features such as programmable settings, and customizable controls that make operations easier. Second, consider the size and capacity that maximizes space and adds flexibility. Third, consider energy efficiency ratings when selecting a model and how much it can save your operations. Finally, research warranty coverage offered by the manufacturer and understand the capabilities that the oven can bring to your kitchen. With these four tips in mind, you can be sure to find an efficient oven that meets your needs and budget. Request a Quote today!
Request a Quote