Alto-Shaam
7 Reasons to Attend A Taste of Alto-Shaam
Continuous education and the ability to adapt are crucial for any business. No matter what market you serve, our culinary experts will share tips, ideas and solutions tailored to your unique needs at a free A Taste of Alto-Shaam demostration in your area. And of course, you'll sample lots of great food!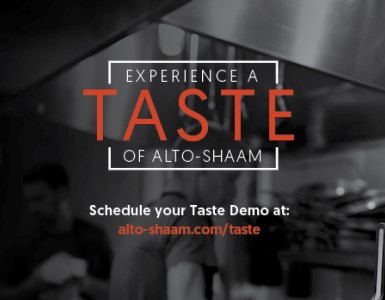 If you haven't attended A Taste of Alto-Shaam, this hands-on demonstration is one you ­­­won't want to miss. The reasons to experience A Taste of Alto-Shaam are endless. However, we've picked the top seven reasons why you'll enjoy attending this free event near you.
1. Expand your menu
During the cooking demonstration, you will have the opportunity to explore new ways to develop and enhance your menu offerings without adding extra labor. Culinary experts will demonstrate the multi-functionality of Alto-Shaam equipment, and how it allows you to execute a wide range of cooking applications.
You will learn just how easy it is to bake, sear, roast, air fry, steam and more in the exact same oven at the exact same time with programmable, intuitive multi-cook ovens. Additionally, you will discover how low-temperature Cook & Hold Ovens can roast, proof, braise, reheat, ferment, sous-vide, hold and more. The demonstration is a great opportunity to explore new recipes and techniques if you are in the process of enhancing your menu.
2. Discover Savings
You'll also learn how you can cut back on labor and reduce operating costs. Alto-Shaam's full line of kitchen equipment is designed with built-in savings and efficiencies, including:
3. Increase food production
Increase production while maintaining food's consistency by using Alto-Shaam's time- and labor-saving equipment. Whether you are serving 50, 500 or 5000, Alto-Shaam equipment is designed to maintain food quality and consistency while serving your guests.
Perfect for high-volume, batch cooking, Vector® F Series Multi-Cook Ovens are equipped with four independent oven chambers and full-size sheet pan capacity. Optimize your kitchen's square footage and workflow with a waterless, stackable design.
A one-of-a-kind stacking combination, the Prodigi Pro can be stacked over a Vector F Series Oven for unmatched production, efficiency and superior food quality in a single, vertical footprint.
4. Enhance Food Quality
Poor quality is invariably a result of inconsistent cooking applications and harsh holding techniques– issues that can both be easily overcome when armed with the right equipment to keep your food hot.
The range of Alto-Shaam heated holding products is extensive, from heated shelf merchandisers and hot hold cabinets through to drawer warmers and hot food wells. Choosing holding equipment with gentle, precise Halo Heat® Technology allows operators to maintain the highest food quality, and achieve longer hold times without harsh heating elements, fans or added humidity.
5. Strategize with peers and culinary experts
Have questions? Our culinary experts are here to help! Not only do you get to work with culinary experts, but the interactive demos allow you to work with other professionals in the foodservice industry. Share your thoughts, challenges, and solutions with one another.
6. Grow your business
Consider all you've learned from this experience and take it with you. Whether it be new recipes, different cooking techniques or operational advice, use it to your benefit and grow your business!
Across the foodservice industry, Alto-Shaam is here to help you conquer your foodservice challenges and meet your specific needs. Whether your operation is large or small, we have the right-sized equipment and system solutions for you.
And last but not least...
7. Eat great food!
Who doesn't love free food? After you see the equipment in action, you taste and experience the finished product for yourself. We promise you won't leave the demonstration disappointed ... or hungry!
Interested in attending? Find A Taste of Alto-Shaam demonstration near you. Invite your friends and colleagues and register today at alto-shaam.com/taste.
Save My Seat