Alto-Shaam
Benefits of Self-Cleaning Ovens
Cleaning commercial ovens can be a daunting task. Discover how self-cleaning ovens can help reduce labor costs and make your business more efficient.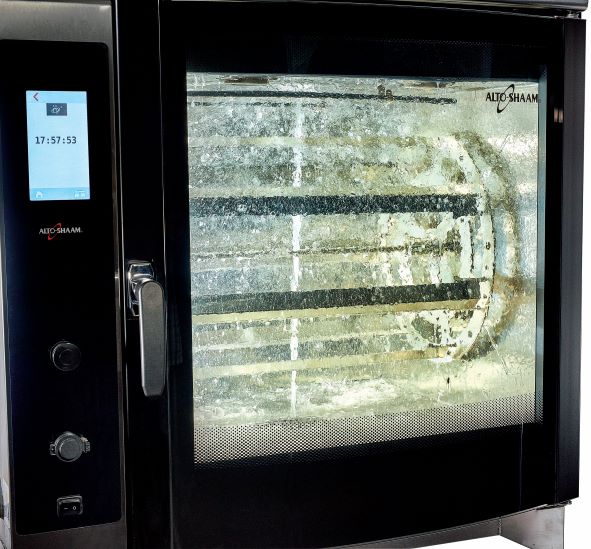 Cleaning a commercial oven is often the last thing that an employee wants to do at the end of the night. Fortunately, self-cleaning ovens have hit the market with a wide range of features, such as automatic grease collection and multiple cleaning cycles to help make this job easier—and more efficient. In this guide, we share the benefits of self-cleaning ovens, including a few new product offerings that will save your restaurant time and money.
Products
At Alto-Shaam, we believe that self-cleaning ovens are the key to maintaining a clean kitchen while also reducing labor. That's why we've developed new products with patented self-cleaning designs. Here are a few of our cutting-edge self-cleaning ovens:
AR-7T Self-Cleaning Rotisserie Oven: The AR-7T utilizes an automatic self-cleaning system that can handle the toughest grease. Rotisseries are known for being difficult to clean, and the hot grease can be a safety hazard. Fortunately, the AR-7T is designed with a built-in, automatic grease collection that activates during the cooking process—pumping grease into separate collection containers for safe handling and disposal. This commercial rotisserie oven uses 35% less water than other self-cleaning models on the market, so you'll save additional money on utilities. When it's time to clean the oven, operators can easily activate the patented self-cleaning system with the touch of a button. For added efficiency, operators can clean the dirty rotisserie spits by putting them back into the oven before activating the cleaning cycle.


Prodigi™ combi ovens: With multiple cooking options in a single oven, the latest Prodigi combi oven is an all-in-one solution for cramped kitchens. Our Pro and Classic models have a self-cleaning feature with five cycle options, ranging from "light clean" to "heavy soil". Whether you're using the oven for convection, steam, or frying, it's easy to start and run a cleaning cycle when needed.


Converge® multi-cook ovens: The addition of water in Converge multi-cook ovens allows for automatic self-cleaning to significantly reduce labor. Cleaning this oven is as simple as placing the tablet in each chamber and clicking a button.
How Do Self-Cleaning Ovens Work?
Our automatic self-cleaning system relies on patented water jets that spray the entire oven interior. There are no moving parts in the system, so our self-cleaning ovens are extremely reliable. During installation, you'll need to connect the oven to a treated water supply line. The oven should also be positioned near a floor drain. To ensure proper installation, take advantage of our Combi Installation, Rotisserie Installation, and Converge Installation programs.
You can begin a cleaning cycle when the oven is cooler than 140°F. Tap the cleaning icon on the touchscreen, and then tap the rinse or wash icon. Rinse cycles only take 30 minutes to complete, while wash cycles take about 4 hours. Depending on your cleaning preference and oven type, these self-cleaning ovens allow you to connect a bottle of liquid cleaner or drop tablets into the cavity drain.
What are the Benefits of Self-Cleaning Ovens?
Cleaning commercial ovens by hand can be time-consuming, dangerous, and inefficient. Here are the biggest benefits when upgrading to a self-cleaning model:
Reduced Labor: It only takes a few seconds to start a wash cycle with a self-cleaning oven. Any employee can set it and forget it just like a dishwasher, freeing up time to work on other tasks or go home at the end of the night.
Improved Safety: Features like the automatic grease collection system streamline the cleaning process and minimize safety risks. It's much safer to dispose of grease when it's in a handheld jug, and you don't have to de-grease and clean the oven by hand.
Less Water Usage: Using 35% less water than competitive self-cleaning rotisserie models saves a lot of money over time. Designed to be highly efficient, our patented water jets get the job done, without wasting water.
No Moving Parts: Unlike other self-cleaning systems, Alto-Shaam ovens are more reliable because the cleaning system has no moving parts.
Ready to demo a self-cleaning oven for yourself? Click here to request A Taste of Alto-Shaam demonstration today.
Save My Seat