Alto-Shaam
Commercial Kitchen Equipment Evolves to Meet Space Needs
Kitchen spaces are shrinking, presenting new challenges for operators who have to find creative solutions to fit more equipment in less space while still keeping up with demand. Fortunately, many of today's ovens are ventless, serve multiple functions, and can be stacked to save space.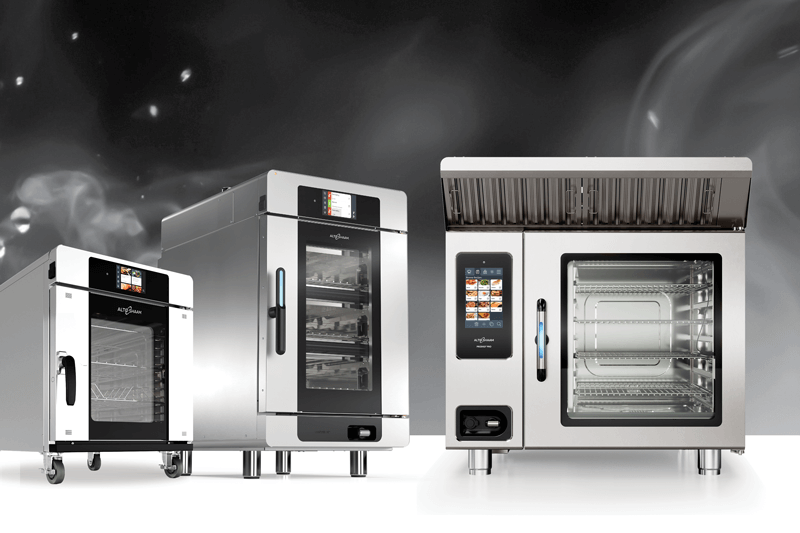 There are many factors to consider when choosing the best foodservice equipment for a commercial kitchen design. In addition to menu needs, oftentimes the space has its own requirements—from limited footprints to ventilation restrictions and more.
Fortunately, many of today's ovens are ventless, serve multiple functions, and can be stacked to save space. In this handy guide, we've shared how today's ventless, stackable, and multi-functional kitchen equipment can make the most of a compact commercial kitchen footprint.
Oven Hood Installation Cost
If you've ever designed or built a commercial kitchen before, you know that installing a kitchen hood venting system isn't cheap. Depending on the complexity of your kitchen layout, it can cost more than $2,000 per linear foot to install the hood. This also limits layout flexibility. Once a hood is installed, it can be costly to move during an expansion or renovation.
With a ventless oven, you don't need to worry about placement under a hood or expensive installation costs. Many of today's ovens are designed ventless or are available with a ventless option. You can place the oven anywhere in the kitchen. A catalytic converter built into the unit or a ventless hood at the top of the unit are designed to filter grease, steam, and other fumes. Clean air leaves the oven and circulates back into your kitchen, eliminating the need for a traditional venting hood.
Taking Advantage of Vertical Space
In a cramped kitchen, vertical space is just as important as floor space. When investing in new kitchen equipment, we recommend seeking out models with stacking options. These allow you to stack two ovens or holding equipment on top of each other using special hardware or stands.
This safe and easy solution saves valuable hood space while streamlining workflow during busy service. Whether stacking a Prodigi™ and a Vector oven, two combi ovens, Cook & Hold ovens and holding cabinets, or a custom configuration, you can use stacked equipment to make the most a kitchen floor plan. Our Self-Cleaning Rotisserie oven over Prodigi combi oven gives increased value and variety of a single, vertical footprint, enabling you to offer expanded main course and side items for grab and go.
High-Volume Recipes
Finally, we recommend investing in multi-functional kitchen equipment that can produce the volume and variety of dishes needed to fully execute an entire menu. For instance, a multi-cook oven has up to four independent cooking chambers. Operators can set the temperature, cook time, and fan speed for each chamber. As a space-saving solution, Vector ovens are able to cook multiple dishes simultaneously with zero flavor transfer.
Likewise, some ovens offer a wide variety of cooking functionality in a single unit. Combi ovens can steam, bake, braise, oven-fry, roast, and more. A separate steamer or roaster is no longer needed--freeing up space for other equipment.
Alto-Shaam offers a variety of space saving solutions for foodservice operations of all sizes. To learn more, explore our full line of commercial kitchen equipment.
Explore our Products