Alto-Shaam
Food Truck Buying Guide
Starting a food truck business can be challenging. Our food truck equipment buying guide will guide you through the process!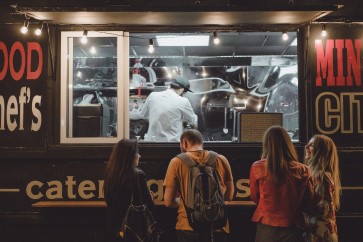 As the costs associated with operating a brick-and-mortar restaurant continue to increase, budding chefs are looking for a less expensive way to showcase their skills. Rising food and labor costs leave many operators struggling to keep up.
Those issues, and others, have helped spawn a growing trend: the restaurant food truck. Operating a food truck allows new operators to get into the foodservice business at a fraction of the cost of opening a fixed location and allows existing operators to expand their businesses without the massive investment needed to lease and outfit a second location. A food truck can also be the foundation of a "ghost kitchen" brand.
But while a food truck can be a great way to build your brand, it does bring with it very specific equipment needs. A small food truck offers a limited cooking space, and operators often need ventless equipment. There are also limitations on the type of equipment that will work for a food truck based on the availability of utility services such as electricity, gas, and water.
With that in mind, here is an overview of what it takes to launch a food truck business and the types of equipment you'll need to get into the game.
How Much is a Food Truck?
There is a wide variety of food trucks, and the cost of buying a food truck depends primarily on the type you buy. A used food truck may run between $50,000 and $100,000 depending on features, while a new one typically starts at $100,000 and goes up from there.
Each route has its pros and cons. Although a used truck comes with a lower price, there may be unforeseen mechanical issues that may lead to higher operating or maintenance costs. Buying a new food truck allows you to customize it to suit your specific needs, but that may increase the time it takes to take delivery on the truck and launch your business. Also, a new food truck will likely require a large upfront investment that may leave you strapped for cash if you need to make upgrades down the road.
Benefits of Owning a Food Truck
Along with the lower ongoing costs compared with a standalone restaurant, a food truck carries a host of other benefits. Depending on the type of food you serve, it may be possible to operate the truck with just two or three workers. That can be a lifesaver in today's tight labor market, especially if your operation is a family affair.
As long as you have the proper permitting, you can go anywhere your customers are, such as outside a popular nightclub on Saturday night, near a sports arena on game day, as one of the downtown dining options during the week, or as the catering choice for a wedding or other outdoor event. Operators can also partner with local businesses, colleges, or hospitals to offer employees a break from the usual burgers and fries.
Everything You Need to Know About Food Truck Equipment
The success of a food truck operation and the type of food you serve depends primarily on the equipment outfitting your mobile kitchen. It may be difficult or impossible to obtain an operating permit without the right equipment, and if that equipment isn't reliable, your service will come to a screeching halt.
There are three main categories of equipment required for a food truck operation:
Cooking Equipment
Finding ovens that require less power, are ventless, and take up less space than a traditional commercial oven is critical, and that begins with the right equipment vendor. Alto-Shaam, for example, provides three core cooking solutions that are compact, stackable, and feature zero clearance (no need to put extra space between other pieces of equipment for ventilation). Those solutions are:
Cook & Hold Ovens and Cook & Hold Smoker ovens featuring Halo Heat® Technology – The ovens are ventless and waterless, allowing them to be used nearly anywhere. These are low-temperature cooking and holding ovens that cost less than $2 a day to operate thanks to their very low energy usage. Both models offer the ability to incorporate programmable recipes to save labor and guarantee menu consistency. For those who serve barbecue, the Cook & Hold Smokers enable operators to infuse bold flavors into their food using real wood chips.
Vector H Series Multi-Cook Ovens – Alto-Shaam's Vector H ovens are ventless and compact, making them ideal for the limited space of a food truck. The Vector H2 or H3 models give up to three independent ovens with individual temperature, cook time and fan speed controls in a single footprint, allowing food truck operators to cook a higher volume and variety of food.
CT Express™ - The smallest Alto-Shaam combi oven ever. If your food truck has access to a water hookup, this is a great compact and ventless solution for those who want to use cooking applications that require a combination of convection and steam.
Holding Equipment
Holding equipment is essential to keep food hot, fresh, and safe for customers. Alto-Shaam's Halo Heat technology is the key to speedy service and keeping hot food fresh longer, eliminating harsh heating elements like fans or Calrod Heaters that can dry out the food. That technology can be found in a variety of Alto-Shaam products, including:
Holding Cabinets – Alto-Shaam's 300-S holding cabinet is compact and convenient, making it the perfect solution for small food truck kitchens. The oven's tight temperature tolerances and even heat distribution add efficiency to any operation, while their stackable, ventless design helps optimize any small space.
Warming Drawers – Solutions such as the 500-1DN Halo Heat Narrow Warming Drawer are great for holding food that has been cooked in advance of service. They help reduce ticket times by guaranteeing that food is hot and fresh. With flexible configurations available, operators have the option of building them into cabinets or counters or stacking to maximize space.
Waterless Hot Food Wells - Alto-Shaam's waterless food wells are designed to provide hot, quality food to customers with no water hookups required. These drop-in wells are great for holding any hot food that needs to be grabbed and packaged quickly for serving, such as ingredients for tacos/burritos, french fries, sides, or hot sauces such as queso.
Refrigeration and Chilling Equipment
Chilling and refrigeration equipment is a requirement when it comes to keeping food cold, and Alto-Shaam's compact QuickChiller QC3-3 is the perfect chilling solution for food trucks. QuickChiller blast chillers can be used to chill virtually any type of food. It's perfect for under-counter or standalone applications in smaller or more confined operations, and its top can serve as additional counter space. The small footprint design of the QC3-3 allows for limited volume chilling when and where it's needed.
Getting Ready for the Road
Having the right tools can make any job easier. It's no different when it comes to operating a food truck.
For a unique twist to taking foodservice to the road, Private Chef Luke Olejniczak delivers a food memory right to his clients home with his 'kitchen on wheels'. After growing up around his grandfather's Alto-Shaam oven, Private Chef Luke followed his passion for specializing in Chicago-style, steakhouse-inspired meals and purchased a fully stainless-steel mobile kitchen trailer. From there, he designed and built it around having an Alto-Shaam Cook & Hold smoker oven. This oven saves him time to focus on plate presentation with saucing and garnishing, interacting with his clients, and saving on costs related to food and energy. Read more about his success and how Alto-Shaam helped him save.
Creating and serving outstanding, flavorful dishes from the window of a food truck can be a great option for those just getting into the foodservice business, those looking for an additional revenue stream, or those who simply want to walk away from the hassles of operating a standalone restaurant.
Let Alto-Shaam products assist you on your journey to food truck success!
View Products