Alto-Shaam
Is My Kitchen Equipment Required to be Under a Hood?
Ventilation hood systems perform a valuable function in a commercial kitchen, but they no longer are a necessity. Explore how ventless ovens from Alto-Shaam can provide installation, maintenance, operating and labor savings.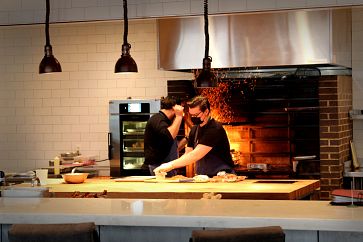 Outfitting a commercial kitchen can be expensive, especially when it requires a ventilation system. Costs vary, but some estimates put the cost of a hood and ventilation system between $2,000 to $5,000 per linear foot depending on the building, with a typical installation running 10 to 14 feet.
That means installing ventilation hoods could cost a restaurant operator $20,000 or more, with ongoing costs for keeping those hoods clean. Along with the additional labor necessary to clean hoods at the end of the day, ventilation systems also require more extensive professional cleaning services multiple times a year to mitigate risk of grease fire and keep a hygienic environment.
The cost of installing and operating ventilation systems can put the prospect of opening a new restaurant out of reach for many foodservice entrepreneurs. These increased startup costs are compounded with rising operating costs and ongoing labor issues. Not to mention, the effort to ensure regulatory compliance.
Adhering to code
Localities generally have their own requirements when it comes to determining if ventilation hoods are required in a commercial kitchen, although most jurisdictions follow the International Mechanical Code, a model code produced by the International Code Council. The IMC sets standards for grease and smoke output levels that must be managed with a ventilation hood.
Commercial kitchen equipment that puts out a significant amount of grease, vapor, odor, or smoke will require a ventilation hood system. To properly displace the particle-laden air, type I ventilation systems require ventilation to the outside, which impacts kitchen layout options, depending on local ordinances and the building itself.
Although, ventilation hood systems perform a valuable function in commercial kitchens, they are no longer a necessity.
Skipping the vent
Alto-Shaam has incorporated ventless technology into many of its commercial cooking equipment, with units that can be placed anywhere outside of a traditional exhaust hood. This equipment maximizes floor space while improving efficiency and workflow.
Alto-Shaam's Converge® multi-cook ovens, for example, can be operated outside of a traditional ventilation system thanks to its exclusive technology. Combining the power of Structured Air Technology® and the versatility of Alto-Shaam's boilerless combi technology in each oven chamber, Converge ovens feature up to three independent oven chambers, each with its own catalyst to scrub the air of grease, particles and vapor. This means operators can cook three different food items–even raw proteins–in a ventless footprint at the same exact time using a single Converge oven. The ventless cooking applications are expansive with Converge, providing the ability to steam, bake, grill, air fry, sear and more in a single unit.
Each cooking chamber is separate from the others with its own air path, catalyst and fan at the rear. The independent chamber design gives operators the ability to control temperature, humidity level, fan speed and cook time in each oven chamber. With each chamber a closed system, there is zero flavor transfer between chambers.
Added humidity provides added bonuses. Converge features a self-cleaning design that reduces labor costs with four options from "rinse" to "heavy clean" and uses safe, convenient cleaning tablets. The oven's compact 24" (610mm) footprint makes it ideal for even the smallest kitchen. They can be stacked to further maximize space.
And best of all, its ventless operation means there's no hood needed.
Expanding the possibilities
Converge is just one of the many pieces of ventless commercial kitchen equipment that Alto-Shaam offers. Others include its Vector® H Series multi-cook ovens, as well as low-temperature Cook & Hold ovens, which provide the ability to significantly reduce food, energy and labor costs thanks to gentle, radiant Halo Heat® technology. Many Alto-Shaam ovens can also be paired with ventless hood technology.
Alto-Shaam's ventless cooking equipment not only reduces costs and solves space challenges, it addresses labor issues, as well as food quality and consistency. Both multi-cook ovens and Cook & Hold and Smoker ovens are intuitive to use and programmable with Alto-Shaam's most advanced control yet. Programmable recipes guide the cooking process for staff to ensure your food comes out the exact same way, every time, no matter who is operating the oven.
With the addition of cloud-based oven management, operators can push and pull recipes and data from their ovens remotely and seamlessly using ChefLinc™. This significantly reduces the time it takes to roll out new recipes or limited time offers. ChefLinc also provides data-driven insights that allow operators to manage their menus, ovens, and business from wherever they are.
Alto-Shaam's ventless cooking equipment can be placed anywhere—eliminating the operation and installation costs associated with a traditional exhaust hood. Contact one of our experts to learn more!
And for more on designing the kitchen of the future, register for our upcoming 30-minute webinar.
View Webinar