Exclusive Features
Boilerless Design
Remote Oven Management System
Safevent™
CombiSmoke®
Zero Clearance Design
Experience up to 80% less water usage with boilerless design. The standard offering on all of our Prodigi and CT Express commercial combi models, boilerless steam generation provides superior performance, improved reliability, and less maintenance costs associated with traditional boiler parts and labor.
ChefLinc™ features an easy-to-use dashboard to streamline processes, reduce labor and maximize profits. Seamlessly push and pull recipes and limited-time offers with a recipe management system. Empower your foodservice operation with data-driven insights, oven monitoring, service support and more.
Keep employees safe. Safevent™ venting system automatically vents heat and steam during the last 60 seconds of the cooking cycle on CT PROformance models. Open the door as soon as the cooking cycle ends without exposure to heat and steam.
Prodigi Pro and CT Express models offer a seamlessly-integrated smoker with our optional CombiSmoke® feature. Smoke hot or cold with real wood chips. No odor or flavor residue. No impact on door seal or oven performance.
Zero Clearance Design saves valuable space under the exhaust hood and reduces ventilation costs. Place Prodigi Pro and Classic models next to any piece of equipment - anywhere on the line.
Combination Cooking Ovens
Prodigi™ Pro
Prodigi Pro combi ovens are built to support and connect the most demanding kitchens. Set your employees and business up for success with a customizable, Wi-Fi enabled control that takes the guesswork out of cooking, cleaning and more.
Prodigi™ Classic
Prodigi Classic combi ovens are an all-in-one solution for efficient and consistent food production. A touchscreen control and labor-saving features make these ovens a great solution for locations looking to streamline food service.
Converge® multi-cook ovens
Converge multi-cook ovens pair the versatility of combi cooking and flexibility of a multi-cook oven with the power of Structured Air Technology®. Discover endless cooking possibilities in the smallest footprint with up to three combis in one.
---
Prodigi PRO Combination Ovens
Combining multiple cooking functions into a single appliance, Alto-Shaam combi ovens are a steadfast tool in the kitchen. These high-performance ovens do the work of a convection oven, kettle, steamer, fryer, smoker and more. With advanced features and accessories inside and out, Prodigi combi ovens are built tough to support and connect the most demanding kitchens.
---
Combination Oven Accessories
Achieve ultimate menu variety and set your foodservice operation up for success with an assortment of accessories for cooking, cleaning and more.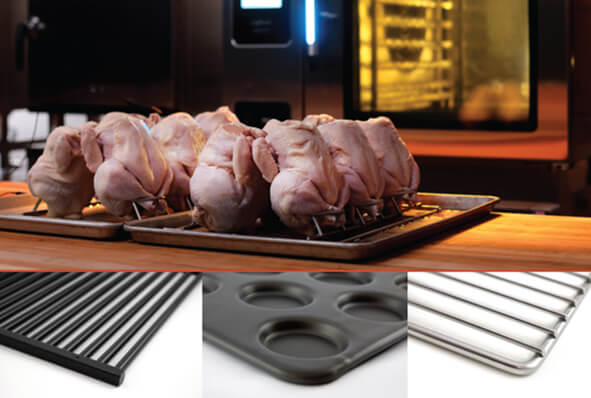 The Best Commercial Combi Oven For Your Business
With so many cooking functions in one oven, Alto-Shaam's high-performance industrial combination oven is designed to be an indispensable centerpiece in the kitchen. A commercial combination oven (or "combi") combines convection and steam cooking to produce the highest quality food. Alto-Shaam's commercial combi oven line is up to 80% faster than standard convection models. Turbo mode delivers enhanced production, improved temperature control and quicker recovery times.
Industrial combi ovens allow you to set the humidity percentage and temperature separately, so you have total control over the moisture and heat while cooking. Unlike most other combi models, our Prodigi combi ovens feature a boilerless design, which generates steam by spraying water on a heated surface and then circulating it with fans. Save on water and maintenance costs with no separate water reservoir needed.
A commercial combi oven is an excellent choice for roasting and smoking meat, steaming vegetables, air frying, dehydrating, and even baking bread. With a hybrid convection steam oven, you can use the same combi for multiple cooking functions, saving precious floor space in your kitchen. With a recipe management system built into the commercial combi oven, you can seamlessly execute and store pre-programmed recipes as well.
At Alto-Shaam, we know that every kitchen has different needs, so we've designed our combi ovens in a variety of sizes and configurations. Whether you're looking for a compact oven or an oven built for high volume food production, we have the ideal combi for your commercial foodservice operation.
When you're ready to install the combi in your kitchen, we offer a factory-authorized Combi Installation Program that guarantees proper installation and optimal performance from the start.
Request a Quote Today