Alto-Shaam
Reduce Operating Costs in The Kitchen
Effectively reduce operating costs in the kitchen while maintaining quality and efficiency. Check out these effective strategies to achieve savings.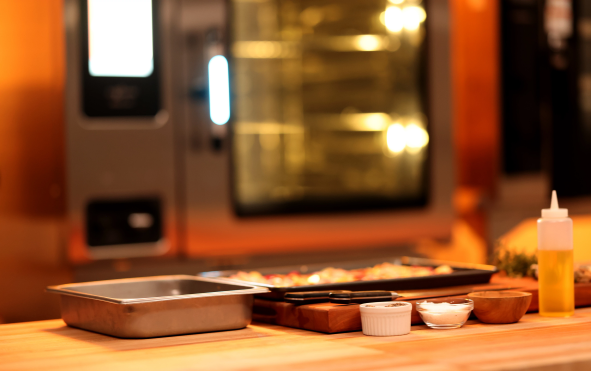 With foodservice profit margins becoming ever tighter and the industry facing a variety of challenges, efforts to reduce kitchen operating costs are top of mind for operators today.
All too often, the ability to reduce kitchen costs can spell the difference between red and black when it comes to a profit & loss statement. Issues including food, labor, and utility costs are all affected by what happens in the back of the house.
Restaurant operators can employ several strategies to reduce operating costs in the kitchen. Here are some effective ways to achieve savings:
Staff efficiently
Optimize labor costs by implementing smart staffing practices. Analyze historical data to determine peak and off-peak hours, allowing you to schedule staff accordingly. Cross-train employees to handle multiple tasks and minimize the need for specialized staff. Well-trained employees can work more efficiently, reducing food wastage, errors, and rework. Training programs can also help improve safety practices, reducing the risk of accidents, and potential liability costs.
Intuitive, programmable ovens can also drastically streamline the time it takes to get new employees up to speed. The latest oven technology is designed to be easy just a few touches of a button, anyone can execute
Streamline the menu
Simplify and streamline your menu to reduce the number of ingredients and inventory costs. Focus on dishes that utilize common ingredients, reducing the number of unique items stocked. This approach minimizes waste and helps with efficient inventory management. In a similar fashion, dehydrating food is another great way to expand menus while reducing waste and getting the most out of your ingredients.
By continuously evaluating your menu, you can not only reduce food costs, but also streamline your kitchen workflow. When grouping similar ingredient menu items in work spaces, you can reduce prep time, optimize cooking efficiency, and minimize errors.
Manage your inventory
It is also important to practice diligence in utilizing an inventory control system – to prevent food waste and spoilage. A few things to be mindful of are utilizing proper storage techniques, including stock rotation, in addition to measuring and monitoring inventory usage. Supervise vendor deliveries and conduct daily spot checks of high-margin items to ensure product doesn't go missing.
Choose the right equipment
The type of foodservice equipment and maintenance program you implement can have an impact on every aspect of kitchen operations and efficiency. Consider investing in equipment that can perform multiple cooking functions while at the same leveraging technology to save energy while minimizing the amount of training and labor it takes to operate.
Converge® and Vector® multi-cook ovens from Alto-Shaam, for example, combine multiple independent ovens in one, allowing chefs to prepare up to four food items, in the same oven, at the same time at their ideal cook settings with no flavor transfer. This enables you to create a prep and cooking workflow based on batch cooking or à la minute cooking, so you can execute a variety of menu items in a ventless, compact space.
Additionally, Alto-Shaam's Cook & Hold ovens allow for menu items to be prepared in advance of service and held with no loss of quality. The low-temperature cooking and holding application can save you thousands on food costs and energy usage.
For higher volume menu applications, the latest combi innovation, Prodigi™ ovens, connect the most demanding kitchens while having the ability to steam, bake, braise, roast, oven-fry and retherm your signature dishes in a compact design.
Tying everything together is Alto-Shaam's ChefLinc™ remote oven and cooking management system. This cloud-based technology features an easy-to-use dashboard that creates connected cooking. It provides remote kitchen management tools that allow operators to seamlessly push and pull recipes, view oven status, collect and store data, receive detailed service diagnostics, and more, all accessible on mobile browser or laptop.
By implementing these strategies and choosing the right kitchen equipment, restaurant operators can effectively reduce operating costs in the kitchen while maintaining quality and efficiency. To learn more about how creating a smart kitchen can benefit your operation, reach out to one of the experts at Alto-Shaam.
Talk to an Expert